Tampa is in for a night of boxing on July 11th with undefeated WBA welterweight titlist Keith Thurman taking on veteran Luis Collazo. The fight will be aired live on Premier Boxing Champions on ESPN. Fight fans are sure to be happy with the anticipation that this fight could well be a slugfest. Thurman is the bigger puncher of the two but Collazo has proved to be able to handle world-class power.
Keith "One Time" Thurman (25-0, 21 KOs)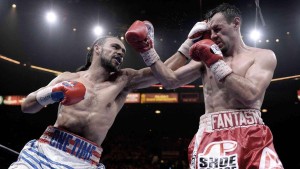 5'7 ½", 69" reach, 26 years old
American
Current WBA Welterweight Titlist
Thurman can be an entertaining boxer-puncher with his ability to sit back and box or to come forward and punch as we saw him do against
veteran Robert Guerrero in his last bout on March 3rd 2015. Thurman's aggression and solid right hands to the body and head of Guerrero made for an impressive performance and was rewarded a unanimous decision by wide margins.
Luis Collazo (36-6, 19 KOs)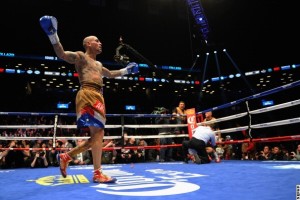 5'9, 72" reach, 34 years old
American
Former titlist
Collazo is a veteran fighter who has stepped in the ring with some memorable names that include the likes of Ricky Hatton and Shane Mosley. It'll be exactly three months since Collazo will step into a ring after a tuneup fight off the heels of his defeat to Amir Khan. Collazo will need to use his momentum from his recent victory to be victorious against Thurman. Collazo is giving up an eight-year age advantage but has superior stature and reach; he'll need to lead and tag Thurman with his longer jab.
Thurman vs Collazo Analysis & Preview
Thurman's decision over a game Guerrero shows that he holds advantages in this fight against Collazo. Thurman is a puncher with ring generalship. Collazo's fight against Khan showed that he struggled with movement and speed, two attributes that Thurman possesses, although the threat of that "one time" power is still what has people excited about him.
That power hasn't been as devastating as the level of competition has progressed, which isn't surprising. Collazo has also played spoiler before, so if Thurman is looking past this could, that could be a big mistake.
The first round will be a feel out round unless Thurman decides to come out the aggressor. The second through fifth round we will see close rounds with Thurman moving around the ring and Collazo looking to pressure and catch Thurman on the ropes. Collazo being a southpaw, Thurman will be able to keep his lead foot outside of Collazo's lead foot and Thurman will be landing hard straight right hands and right hooks on Collazo's head and body.
Thurman's speed will prove as an advantage when he makes Collazo turn and walk straight into a right hand. We could see a knockdown by
either fighter; we know Collazo can go down if he gets caught clean, and there's a possibility of Thurman getting to know the canvas a little better, too. If Thurman gets a little reckless and drops his hands as he loads up on a hook, Collazo is smart enough to step in and catch him with his own lead right hook.
A knockout victory in favor of Thurman is not out of the question but the fight will go the distance. Thurman's cleaner and more powerful punches will convince the judges that he deserves the decision although the fight will be closer than the judge's scorecards will unveil.
Thurman vs Collazo Prediction
Thurman by UD