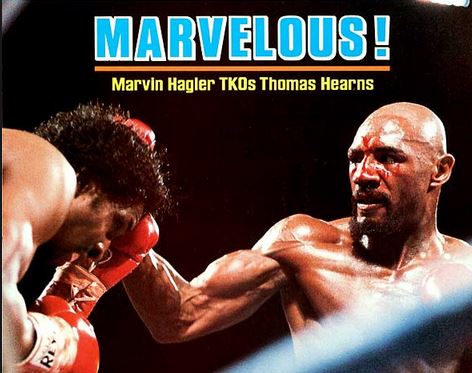 Marvelous Marvin Hagler, whose spine-tingling 1985 victory over Thomas Hearns defined an era, announced Monday that he will return to Las Vegas to attend the Nevada Boxing Hall of Fame's third annual induction weekend.
The legendary Hagler is one of the headliners of the NVBHOF's 2015 class of inductees, chosen in the non-Nevada boxer category.
"To the Nevada Boxing Hall of Fame and to those that voted for me: I'm speechless!" Hagler said. "This is an important recognition. To get to this level, I had to fight hard in life and in the ring. Every time, it was a challenge to prove to myself that I could do it, and my determination gave me the strength to go on and make my dream come true."
Hagler compiled a 62-3-2 record with 52 knockouts in a stellar 14-year career that saw him meet and defeat some of the greatest fighters of his era.
He's best known for his third-round stoppage of Hearns in a savage 1985 battle for the middleweight title at Caesars Palace. It is on every boxing expert's list of the greatest fights of all-time, with many placing it atop the list.
Hagler, though, is about far more than the fight with Hearns. He went undefeated for more than 11 years, going 36-0-1 from 1976 through 1986. His streak ended on April 6, 1987, at Caesars Palace when he lost a highly controversial split decision to long-time rival Sugar Ray Leonard.
His biggest fights came at Caesars, which became known throughout boxing as "The Home of Champions" in large part because of Hagler.
He made his Caesars debut against Vito Antuofermo on Nov. 30, 1979, when he fought to a draw in a bout many believe he won.
Hagler went on to score notable wins at Caesars over Marcos Geraldo in 1980, Roberto Duran in 1983, Hearns in 1985 and John "The Beast" Mugabi in 1986 before the loss to Leonard in 1987.
Hagler joins former welterweight, super welterweight and middleweight champion Felix "Tito" Trinidad in confirming he will attend the gala that honors the career of those who have done so much for boxing in Nevada.
Remaining tickets for the Saturday, August 8 induction ceremony at Caesars Palace are $300, $175 and $75 and are fully tax deductible as the NVBHOF is an IRS 501 (c)3 charity. They can be purchased online at the Hall's website, nvbhof.com.