After several postponements, the Devon Alexander vs. Kell Brook IBF Welterweight title fight is now set for May 18 in Atlantic City, New Jersey.
Here, two ProBoxing-Fans.com writers take a look at the fight and offer their prediction on the outcome. Will the two-division American champ continue his surge in the Welterweight division, or will the undefeated British super-prospect pass his first big test?
The Fighters
Kell Brook (29-0, 19 KOs)
5'9″ tall, 69″ reach, 26 years old
British
Former British Welterweight Champion (vacated)

Ranked #7 in the world, Kell Brook is the UK's prime welterweight, especially now that 140-pounders Amir Khan and Ricky Hatton have both been struck down. "The Special One" has come up the traditional way, by winning his way through national and regional titles, but entirely over the likes of no better than Lovemore Ndou. Heretofore, Brook has never fought so much as a fringe contender. Even Carson Jones, who Brook beat to become the IBF's mandatory challenger, is really just a tough journeyman.
So, it is fair to say Brook is highly regarded more for his talent than for his accomplishments, but that talent is formidable. He is quick, agile, has good power, and brings excellent boxing skills to the ring.
Devon Alexander (24-1, 13 KOs)
5'8″ tall, 70″ reach, southpaw, 25 years old
American
Former IBF-WBC junior welterweight champion; Current IBF Welterweight Champion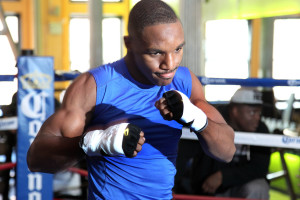 If Brook is venturing into very foreign territory by taking on his first world class opponent for a major title in the United States, fighting a guy like Brook is old hat for Alexander. "Alexander the Great" fought his first ranked contender four years ago, when he duked it out with DeMarcus Corely in 2008. Since then, he has added the scalps of Junior Witter, Juan Urango, Andriy Kotelnik, Marcos Maidana and Randall Bailey to his name.
I don't count the win over Lucas Matthysse as a scalp, since the results were so close and the decision semi-controversial, but it can be safely said that Alexander gave as good as he got against the powerful Argentine. Against this, he has lost only one fight, a unification bout with Timothy Bradley. In terms of style, he is a sound, all-around boxer-puncher, ranked #6 in the world.
Analysis and Preview
I'll start with what won't be an issue here: the physical aspects. Brook is a natural welterweight, but Alexander was a big guy at 140 lbs, and looks like a solid welterweight now that he has moved up. Brook is a little taller, but Alexander has slightly longer arms, so reach won't be an issue either. Furthermore, both guys are about the same age, neither is a huge puncher, neither has a weak chin, and neither is a burly ring-wrestler who needs lots of muscle.
Once you see all of that, you are left with the question of who is the better technician. Who will be best able to apply his game plan, make adjustments, and out-box and out-fox the other guy?
I think Brook is a little quicker and a little slicker than Alexander, but Alexander is vastly more experienced. He gave Timothy Bradley a good contest, and Bradley is better than either Alexander or Brook. Furthermore, it's hard to see Alexander as being intimidated by Brook's power after bouts with the likes of Matthysse and Maidana. By contrast, Brook hasn't fought anyone even in the league of Juan Urango or Junior Witter.
This will be a highly competitive bout, and it's easy to see the momentum changing hands more than a few times over twelve rounds, but the thing I have a very hard time seeing is Kell Brook taking control and keeping it. His edge in quickness over Alexander is too thin, while Alexander's edge in experience is too wide.
Prediction: Devon Alexander SD12 Kell Brook
Take Two — From Frank Ingiosi:
Contrasting styles will prove to be the hallmark of this fight, and likely will play into favor for the incumbent champion.  Alexander uses his jab sparingly and, at that, only as a tool to segment prolonged attacks from his quick left hand.  The champion will look to dictate the flow of this fight as he did in his lopsided victory over Randall Bailey back in October.  For those keeping score at home, expect ample amounts of grasping and stunting by Alexander throughout the fight.
The quicker Brook will look to quick, targeted attacks against the champ in order to neutralize Alexander's style.  Defensively, Alexander will be forced to protect against Brook's vicious right hand and sharp jabs.  Brook uses his jab as well as anyone in the game today, and would be wise to stick with that during this fight.
On paper, this is a very evenly matched fight between two very highly touted competitors just entering the primes of their respective careers.  If Alexander is able to maintain his pace throughout the fight, and stay off of the canvas for twelve rounds, expect him to leave the "Motor City" much the same way he arrived: IBF Welterweight champ.  Look for Alexander to do just that with the more explosive and powerful Brook.
Brook vs. Alexander Prediction
Both men realize the gravity of this fight and what success could mean for the remainder of their respective careers.  Either is more than capable of winning the bout and representing the IBF as a strong and entertaining champion.  What will distinguish the eventual winner of this fight will be two things: ring acumen given the circumstances and, like it or not, venue. Alexander is a very talented fighter (holding aside) and he knows boxing in the United States.  He's going to fight his fight and become comfortable much quicker in this bout than will Brook.
Fighting only his second contest on US soil, Brook is at a decided disadvantage.  Any challenger would be dangerously naïve to imagine that he could take the strap on the cards; this is exponentially more so when said fighter is a stranger in the strange land that is US boxing.
Kell Brook will win this fight if one of two things happens: a) He so thoroughly dominates the fight so that a decision other than one in his favor absolutely shocks the conscience of even the most fervent of his detractors, or, b) He knocks Devon Alexander out.  Unfortunately, neither will happen here.
Prediction:  Devon Alexander by split decision