Kell Brook returns after 10 months out of the ring in Sheffield, his hometown. In a new weight division on March 3rd, the former IBF welterweight champion debuts as a super-welterweight. He faces  a very tough opponent in Sergey Rabchenko at the Sheffield Arena.
The 31-year-old is rebounding from two successive damaging defeats, to Gennady Golovkin (GGG) and Errol Spence Jr. Both fights resulted in each of his eye sockets being broken. Post-surgery he is revitalised and returning at 154lbs, the division that might suit him best. Brook enters this fight with a 36-2 record and is focused on putting in a performance of his career to put his career back on track. Kell Brook speaking to Sky Sports earlier this week:
"I hit rock bottom and I knew that I needed boxing. I knew that's where I'm at my happiness.

Since I've come back, I'm so happy training. I'm happy about the future"
Kell Book without a doubt is still one of Britain's most talented fighters. Moreover, a major showdown with rival Amir Khan still looms, which I feel will be one of the biggest fights in British boxing. Brook still has potential big fights and still has loads to offer the sport.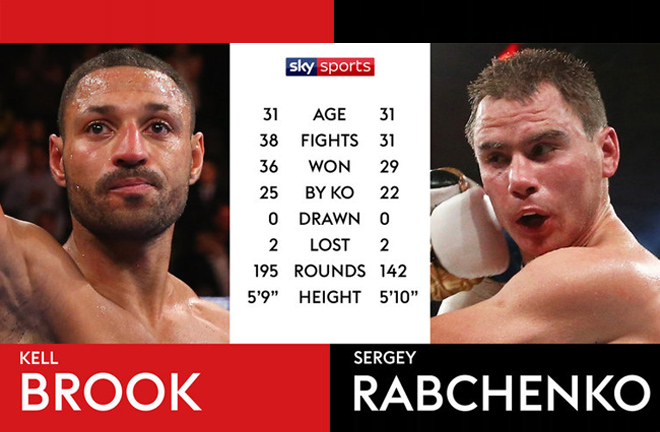 Sergey Rabchenko is a tough opponent and for sure will provide a big test for Brook in the new weight. Rabchenko is known for his fight against Ryan Rhodes, who comes from the same Imgle gym used by Brook and will be looking to win come Saturday. The 31-year-old knows this is no easy return to the ring and he must bring his A game to win this fight.
However, the undercard has some exciting fights, Super-bantamweight rivals Gamal Yafai and Gavin McDonnell who meet to determine who gets a opportunity for a world title shot. Furthermore, another return to the ring is popular heavyweight Dave Allen will finally rematch Lenroy Thomas, which also promises to be a great fight.
Prediction
Overall, my prediction for this fight is Kell Brook to win convincingly on points. I cannot see Rabchenko causing any real threat for Brook, his preparation for this fight has been excellent. I truly believe this is a must win fight for Brook, if he wants to become a world champion again. It will be a tough fight for sure, but Brook has the attributes to pull it off.
Check out prediction
What are your predictions? Leave us a comment below.