The last time Vyacheslav Senchenko visited England he broke hearts. The tall Ukrainian plunged a sweeping left hook to the body of domestic boxing hero Ricky Hatton, a punch that ended Hatton's career for good and left a bitter taste for those expecting a victorious return for Manchester's "Hitman".
Almost one year on and Senchenko will touch down on English soil again, this time to face undefeated welterweight Kell Brook at the Motorpoint Arena in Sheffield on October 26.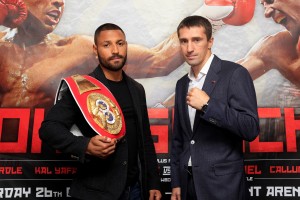 Brook has had a well-chronicled frustrating year. The 27-year-old Sheffield man had worked himself into a mandatory spot for a shot at Devon Alexander's IBF welterweight title but was forced to pull out of both the original and the re-scheduled date for the fight through injury.
It leaves him in a slight quandary for the time being, though that could be alleviated as Devon Alexander's proposed next title defense against Amir Khan has also been scuttled.
That reignites the possibility of Brook, who is still ranked as number one challenger by the IBF, finally facing off with Alexander. There is still work to do for the English hope though with this bout with Senchenko, and for Brook to look too far ahead now would be foolish.
Senchenko is a former world titleholder himself, having won the WBA version through beating fellow Ukrainian Yuri Nuzhnenko in 2009. Continuing to fight out of his native homeland, Senchenko made three low-key defenses before Paulie Malignaggi took a well thought-out gamble, traveling to Ukraine to hand a boxing lesson to the champion and leaving with his belt having opened up a bad cut underneath Senchenko's left eye.
That fight showed Senchenko for what he is: a tall, strong and rangy boxer who tends to come forward without real subtlety. Malignaggi found it relatively simple punching upwards to out-box him and this will encourage Kell Brook to do the same. Brook will also be further buoyed by the added firepower in his arsenal, having done away with solid men such as Rafal Jackiewicz and more recently Carson Jones within the distance.
Senchenko is a stiff puncher himself, though not explosive, and Brook should not be overly fazed by the Ukrainian's power. The liver shot Senchenko landed on Hatton was the perfect punch at the right time, but it must also be noted that he held off the bullish advances of Hatton, albeit a past his best Hatton, without ever looking in serious trouble. This fight showcased Senchenko's durability, a trait further backed up when noticing that he went the twelve round distance for the first time in only his eleventh pro fight.
Brook vs. Senchenko Prediction
Brook should be fired up with the prospect of a potentially imminent world title fight down the line. Having experienced multiple setbacks recently he will want to put on a show to reinforce his presence as a top level contender.
His smooth boxing, crafted from the Ingle gym style, has been his signature so far, but now approaching his late twenties the time is nigh for Brook to start fulfilling his obvious potential. As yet, he lacks a major victory to define his career.
Assuming everything has gone well in training, Brook has the silky skills to pick Senchenko off and gradually wear him down over the distance with well placed punching, before launching a title tilt in the New Year.
Prediction: Brook UD12 Senchenko