Last week, former middleweight champion Kelly Pavlik announced he had been in the Betty Ford Center's rehab program to address his alcoholism since November 4th. Pavlik was also in rehab for two weeks earlier in the year. The news explains a great deal, but at the same time casts doubt on the future of the blue-collar slugger from Ohio.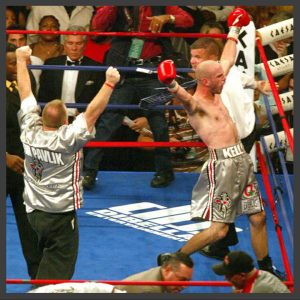 Pavlik's father says his son's drinking problem began in 2007, news that places Pavlik's career doldrums in a new light. Since his losing effort against Bernard Hopkins in 2008, Pavlik fought twice in 2009 against sub-par opposition and ducked out of proposed fights with Paul "The Punisher" Williams. That ultimately landed him in a match with an opponent who proved even more dangerous than Williams would have been, namely Sergio Martinez. The Ghost lost that fight and his title, and bailed out on his first comeback fight to stay in rehab. Pavlik was drinking hard throughout this period.
Pavlik's trainer, Jack Loew, is optimistic that the 28 year old former champion will conquer his demons and return to the ring with renewed vigor. I wish Pavlik well, although I know in my guts that any hopes of the Ghost coming back to boxing's elite will be in vain. When Pavlik defeated Jermain Taylor in two thrilling fights, he became a potentially hot commodity for HBO Boxing. Even after losing to B-Hop, Pavlik retained his middleweight crown and had potential to become a popular, hard-hitting, fan-friendly star. That potential evaporated not due to the loss to Hopkins, but over the course of 2009 when Pavlik failed to restore his momentum. I doubt HBO will show as much interest in Pavlik in the future.
Also, the track record of boxers overcoming substance abuse problems and returning to title contention are few. Once a fighter goes off the rails in this way, their body and skills suffer for it. Look at the decline of Ricky Hatton, who was known to enjoy several pints of beer down at the pub (and not just one as reported at the time) and balloon in weight between training camps). Fellow blue-collar, steel town fighter Paul Spadafora is also bedeviled by a drinking problem, and unlike Pavlik, the Pittsburgh Kid's boozing led him to jail. The drug problems of fighters like Michael Nunn are even more revealing. Long-term success as a top-level boxer requires a consistent discipline in which booze can play no part, and even a few years of hard drinking inevitably shorten a fighter's potential. Even if Pavlik kicks the bottle, if he returns to boxing he will never be the same fighter who knocked out Fulgencio Zuniga, Bronco McKart, Edison Miranda and Jermain Taylor.