Saturday's blockbuster super middleweight showdown between Super Six World Boxing Classic finalists Andre Ward and Carl Froch has captivated the attention of the boxing world – especially those in the 168-pound division. Andre Dirrell, Arthur Abraham, Glen Johnson and Lucian Bute are predicting World Boxing Association super middleweight champion Ward (24-0, 13 KOs) will be the last man standing and proudly lifting the inaugural Super Six World Boxing Classic Cup in victory come Saturday, Dec. 17, from Boardwalk Hall in Atlantic City, N.J., live on SHOWTIME® (9 p.m. ET/PT, delayed on the West Coast).
Of the recently polled crop of 168-pounders, only Mikkel Kessler feels Froch (28-1, 20 KOs) has what it takes to hand Ward his first career loss.
Kessler and Abraham are the only boxers who have faced both Super Six finalists.
—> Check out the ProBoxing-Fans.com official Ward vs. Froch staff predictions, too!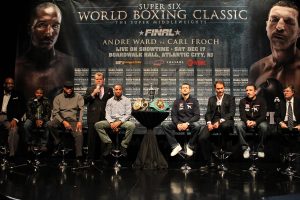 Dirrell, who served as Ward's Olympic teammate in 2004 and suffered a tough split-decision loss to Froch early in the Super Six, feels Ward will not be influenced by Froch's past fights and will stick to a carefully laid-out game plan.
"Ward will make his own assessments from the fights that Froch has had," Dirrell said. "I believe that Froch has gotten better since he fought me. I believe he's grown with each fight so it will be a different fight. You could take the game plan that I had and use it against Froch. But Andre Ward is pretty set with his own game plan."
Dirrell plans to see if his assessments are correct in person. He and his younger brother Anthony – also an aspiring super middleweight contender – will be ringside for The Final. Also expected in attendance are Bute and Kessler.
Here's what a host of top super middleweights had to say about Saturday night's fight, along with their individual results facing the Super Six finalists:
ANDRE DIRRELL:
Super Six Result: Lost split-decision to Froch (Oct. 17, 2009);
"My sense is going toward Ward. I believe Ward will win it – not just because he is a smart fighter but because when it's time to battle, he knows how to battle. But ultimately, his smarts come into play. He knows how to handle these fighters. It's almost like he dissects them. He's pretty in tune to this sport. In every fight he's had in the Super Six, he's switched up his game plan and they worked to perfection. He has a game plan for Froch as well. It won't be easy. I honestly believe there will be a cut in the fight. Andre Ward has his tactics and Froch has his tactics so it's going to be a rough fight, maybe a few bumps and bruises. But overall, I see Andre Ward winning it.
"This tournament right here, this Final right here, both fighters will be put up on the pedestal win or lose. The greatest fighters in this division were in this tournament. Both Ward and Froch have proven themselves very well. Regardless if they win or lose, they'll both have big things to come after the tournament. I hope for the best for both of them, honestly. "
ARTHUR ABRAHAM:
Super Six Result: Lost unanimous decision to Froch (Nov. 27, 2010) and Ward (May 14, 2011).
"I think Andre Ward is going to win on points. He is tactically better and his style is hard to fight against. I don't think many fans like his style, though.
"Winning the Super Six tournament will be huge for the winner.
"To be considered the top of the division, the winner should fight Kessler."
MIKKEL KESSLER:
Super Six Result: Lost technical decision to Ward (Nov. 21, 2009); Won unanimous decision over Froch (April 24, 2010).
"If he does his homework, I think Carl Froch is going to win. He is very strong and he wants to fight. Ward is good and fast, too, but I think Froch will win. He will have learned from the mistakes I did against Ward. So many things went wrong for me that night. Another advantage for Froch is the tournament history – he had some very tough fights that made him even stronger. So my pick is Froch.
"Winning the Super Six tournament will be as good as it gets. That is what we all have been fighting for. The winner will be one of the bests – not the best because he still has to fight me to prove he is the ultimate champion."
GLEN JOHNSON:
Super Six Result: Lost a majority decision to Froch (June 4, 2011)
"The event means everything to the division.  It gave the super middleweight division the most attention – it's everything.  It's a launching pad, a stage where the best can fight the best and stars are made.  There's no way the division would get this much attention without the tournament and these fights would never have happened.  It's been a wonderful thing for not just the super middleweight division but also for boxing.
"I have to go with Ward in The Final. He's the only guy who's undefeated in the tournament and he's found a way to win. You've got to give him the biggest chance because of all the guys that fought the top fighters, he's the only one who stayed undefeated at that level.
"Froch has a puncher's chance, that's the only chance I can give him. I don't think he can win on points – he's not a fast guy and he doesn't throw a lot of combinations.  Ward has a tough style and Froch is going to have to land some big punches to change the opinion of the crowd.  And even though they are both champions, he's going to have to beat the champ to win.  You'll have to beat Ward to get that credit, and I just don't see that happening.
"I don't think Froch is fast enough to keep up with Ward's combos.  There are some people who think Ward has a soft chin, but I don't think it's necessarily true.  Early on in his career Ward hadn't adjusted with how to get hit without headgear, but now he has and Froch will only have a puncher's chance to capture the Super Six Cup."
LUCIAN BUTE, Current Undefeated IBF Super Middleweight World Champion:
"In my opinion, I think Andre Ward will be the winner of the Super Six. He is a smart fighter with good skills and he will avoid the power punch of Carl Froch. The fight on Dec. 17 is huge for the 168-pound division. I want to face the champion of this classic and really reign over the super middleweight division. I'm ready to fight Ward or Froch anywhere, anytime."