On March 19th, Vitali Klitscko will defend his WBC Heavyweight Division title against the significantly less (professionally) experienced Odlanier Solis in Cologne, Germany. Klitschko will be looking to make his eighth defense of the WBC title, after defeating Corrie Sanders to win the title originally back in 2004. Odlanier Solis is an undefeated 2004 Olympic Champion and is Klitschko's mandatory after he defeated Ray Austin at the end of last year. It will be interesting to see how the unbeaten Solis will handle himself in the ring against Klitschko, who still has the powerful, yet defense-oriented style, that makes him one of the most unorthodox and toughest Heavyweights in the sport.
Klitschko vs. Solis Preview
Vitali Klitschko
41-2 (38 KO's)
Kiev, Ukraine
Height: 6'7 ½"
Reach: 80"
WBC Heavyweight Champion
Last 5 Fights: Klitchscko's last 5 fights have all been solid defenses of his WBC style. No opponent he faces seems to have any idea how to work their way inside and penetrate his (or his brother's) impenetrable defense. Formerly a knockout artist, Klitschko has won a few of his recent fights (against Shannon Briggs and Kevin Johnson) by decision and has scored late round stoppages in his others against Chris Arreola and Albert Sosnowski, proving that with age, Klitschko's power and penchant for knockouts may be diminishing a bit.
Odlanier "La Sombra" Solis
17-0 (12 KO's)
Havana, Cuba
Height: 6'1 ½"
Reach: 79"
Last 5 Fights: Solis has notched some impressive wins over high quality opponents and is proving that he is a fighter on his way to the top of the Heavyweight division. In his most recent fight; he defeated Ray Austin in the WBC Heavyweight Title Eliminator bout. Austin was disqualified after punching Solis after the bell, and Solis fought a solid bout against the veteran. He also recently notched a solid win over journeyman Monte Barrett, who has faced the best the Heavyweights for years. These victories prove that he can hang in there with the experienced fighters, despite his lack of professional experience.That's the key though, his wealth of experience lays actually with his amateur background.
Klitschko vs. Solis Tale of the Tape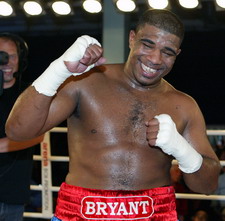 In terms of height, Klitschko towers over the 6'1" Solis, but surprisingly, Solis' reach is only an inch less than that of Klitschko. The fact that their reaches areso close will hold little ground in this fight due to Solis' lack of height. Klitschko's height and his jab should keep Solis at bay and will give him trouble working his way inside. Also, at 271 lbs., Solis outweighs Klitschko by a solid 20 lbs.
Nobody seems to question Solis' hand speed, energy, and impressive resume (especially as an amateur), but the one thing they do seem to question is the fact that Solis seems to be carrying a little bit of extra weight around his midsection. This may prove to be a factor in the later rounds, as carrying 271 lbs around the ring for 12 straight rounds may take its physical toll against the always fit and fight ready Klitschko.
Will Klitschko's age be a factor? – Klitschko has been showing signs of aging as of recently in his fights. His punches lack a bit of the pop that they once had and he seems a little slower and more lethargic. His fights keep stretching longer and longer, although his opponents still have trouble figuring him out. Solis is younger, faster and at the peak of his career and what he lacks in professional experience, he makes up for in craft and amateur experience. Some believe that Klitschko is too old, slow and lethargic to defeat  Solis, and the fact that he is fighting such a young opponent with fast hands, an Olympic Gold Medal, and notable amateur wins against the likes of David Haye and Sultan Ibragimov, raises talks of a potential upset over the aging champion.
Upset Speculation – This is the first time in a while that Klitschko has taken on a fighter of this caliber, so of course there is speculation about a potential upset being in the mix. Obviously, Klitschko is the favorite in this fight. He is the Heavyweight Champion, and although he's 39 years old, he continues to baffle his opponents with his combination of pure punching power and a seemingly impenetrable and unorthodox defense. However, many believe that it's his time to face an upset. Solis is undefeated, and carries the division's most extensive and impressive amateur pedigree.
Klitschko vs. Solis Prediction
I believe that Klitschko still has what it takes to retain his title. What he's lost in terms of one-punch power and speed, he still retains in a solid defense and great timing. This will not be an early knockout win for Klitschko, but he will win a majority of the rounds until he finally stops an exhausted Solis in the 10th round.
Comments
comments