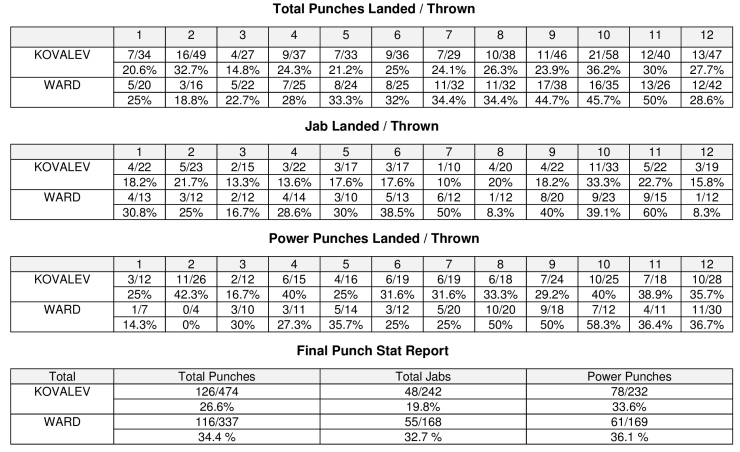 In the wake of the controversial unanimous decision victory for Andre Ward over Sergey "Krusher" Kovalev on Saturday night which many writers, commentators, and media scored a decisive Kovalev victory, Compubox released the breakdown of their punch stats for the November 19 megafight.
Kovalev vs. Ward Punch Stats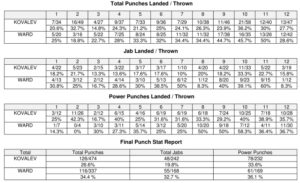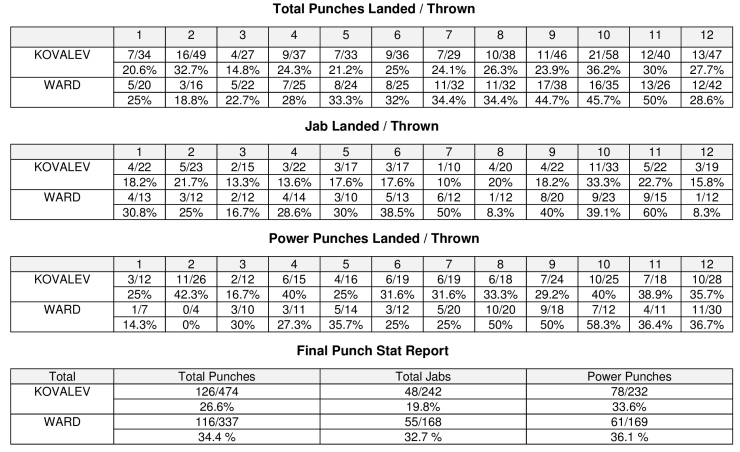 Factoring in the second round knockdown, Kovalev would have taken the fight based on total punches landed, total punches thrown, power punches landed, power punches thrown, accuracy of power punches or jabs thrown. Scoring based on jabs landed would have resulted in a draw. The only metric that could have handed Ward the victory was accuracy, but he was only more accurate in throwing jabs on a round-by-round basis.
Particularly glaring is the tenth round, which all three judges scored for Ward, though it looked like a clear Kovalev round according to the Compubox stats. In the tenth round, Kovalev significantly out-landed and out-threw Ward in total punches, jabs and power punches. Had all three judges scored the tenth round for Sergey, Kovalev would have won the fight 114-113.
Main Events CEO Kathy Duva said, "I thought Sergey won the fight sitting ringside and it looks like the Compubox stats bear that out. The judges gave every close round to the challenger instead of the champion, plus the tenth round which wasn't even close. Sergey has asked for an immediate rematch. As far as we are concerned, he won the first fight and he will win the second fight too."