Kubrat Pulev (17-0, 9 KOs) is EBU's "Champion of the Year". The European Boxing Union honored its heavyweight champion due to his dominant outings inside the ring during 2012, bringing him close to a world title shot in the not so distant future. The prestigious award was presented to the 32-year-old at the Union's annual general meeting this Saturday, which is currently held in Vienna, Austria.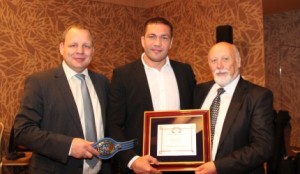 "I am very happy to receive this award," said Pulev who was present. "The EBU is a long-standing and renowned association and I am proud to be its heavyweight champion."
Pulev caught the eye of many boxing fans and experts last year with his emphatic victories over Alexander Dimitrenko and Alexander Ustinov, beating both by knockout in the eleventh round. He won the European Heavyweight Championship against Dimitrenko in May 2012, followed by his first title-defense in September against Ustinov.
"I know that I can only show my best inside the ring when I am well prepared," stated the prodigy of coach Otto Ramin. "As a European Champion I have to set high standards to myself. I am always giving my best – in preparation as well as on fight night."
Due to his professional attitude, Pulev has already managed to work his way up in the rankings of the IBF, currently holding its number one spot – right behind the Federation's champion Wladimir Klitschko. His next goal is clear: "After having conquered Europe, it is time to become the heavyweight champion of the world!"
Of course, negotiations have faltered for Pulev to face Tyson Fury.