Haye vs. Fury Makes Sense for Both Men:
Negotiations between Briton Tyson Fury and Bulgarian Kubrat Pulev for a fight to decide the IBF's #1 contender and mandatory challenger are off. This breakdown in talks make it very likely that Fury vs. David Haye will now be made, and the business and pugilistic logic driving the fight is almost unassailable, especially for David Haye.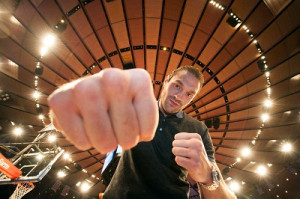 From a business perspective, little imagination is needed to realize the revenue an all-British heavyweight clash between Fury and Haye. The fight is the biggest potential payday either boxer has on the horizon for now, and all those £ signs make a pretty persuasive argument.
The fight also looks like a good match-up for David Haye, who is angling for a title shot and having a hard time in securing one. The Hayemaker did not seem too interested in taking on the 6'9″ Fury, but doubtless the way Fury struggled in the early stages of his fight with Steve "U.S.S." Cunningham made him revisit the idea getting into the ring with Fury.
After all, Cunningham is a former cruiserweight, just like Haye, but not nearly as formidable. The Hayemaker likely figures that if Cunningham could get to Fury and, with the American's limited power, manage to hurt him, then he could do ever so much more.
Less clear is why Tyson Fury would want to take this fight. Despite his lack of major opponent experience, Kubrat Pulev was probably a riskier match for Fury than Haye would be. The 17-0 Bulgarian is a gifted, technically skilled boxer, and although smaller than Fury, Pulev is much bigger than Haye.
That is not to say that Haye wouldn't enter the ring against Fury as my favorite to win that fight as well. Instead, I suppose the thinking in the Fury camp is that if Fury has some chinks in his armor, Pulev would be even more able to exploit them than Haye would. What is clear is that Fury would still make substantially more money losing to Haye than he would to Pulev, and that is more than likely the calculation driving the Team Fury to this all-British heavyweight showdown.