Golden Boy Promotions is pleased to announce the signing of IBF Junior Welterweight World Champion Lamont Peterson, adding another 140-pound title holder to the most elite roster of fighters in the sport of boxing.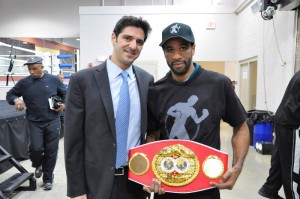 "We are thrilled that Lamont Peterson will be joining Golden Boy Promotions' team," said President of Golden Boy Promotions Oscar De La Hoya.  "We know firsthand what Lamont Peterson can do, as he's been in the ring with our fighters Amir Khan and Victor Ortiz.  We know that he is the kind of individual that will be an asset to our team and great competitor in the 140-pound weight class."
"I am excited about signing with Golden Boy Promotions and the opportunity to work with them again," said Peterson.  "Being with Golden Boy really gives me the chance to make the best fights available in my weight class.  I want to fight the best in the world at 140 [pounds] and I know it can happen as a member of the Golden Boy team.  I am optimistic that this is a decision that will help further my career."
An inspirational figure who, along with his brother Anthony, won the Boxing Writers Association of America's Perseverance Award in 2008 for surviving a harrowing childhood to make it to the top of the boxing world, Lamont Peterson (30-1-1, 15 KO's) doesn't know the meaning of the word "quit."  A native of Washington, DC, Peterson and his brother were homeless for a time before finding salvation in the sport of boxing when they were young.
Trained and mentored by Barry Hunter, Peterson thrived as a fighter, eventually winning numerous titles during a stellar amateur career.  When he turned professional in 2004, the success continued with Peterson eventually winning the WBO Junior Welterweight World Title in 2009.  He would lose the belt later that year to Timothy Bradley.
However, after going unbeaten in his next three bouts, Peterson got a shot at Amir Khan in December of 2011 and he made the most of the opportunity, defeating Khan and capturing the WBA Super and IBF 140-Pound World Championships in one of the best fights of that year.
Lamont Peterson, IBF Junior Welterweight World Champion
"We boxers are always trying to please our fans.  We want to give them the best fights we can.  In order to do that, one needs to have the best promoter in the market so you can get the best fights you can.  Who's the best promoter in the market?  Golden Boy.  So, I decided to go ahead and sign with them and sign with the best there is.
"Signing with Golden Boy is the best thing to do.  They have the best fighters and at this point, after winning my last fight against Amir Khan, it makes sense to fight the top guys.
"I'm training hard for my next fight and I'm going to keep on doing it.  I feel I have some things to prove.  I'm confident I'll come out victorious and I'll move on.
"It feels good to be part of the Golden Boy Promotions team.  It's definitely a great feeling.  At this point, my brother and I are trying to sign up with big promoters and do everything we can to keep on growing in the sport."
David Itskowitch, COO of Golden Boy Promotions
"Golden Boy Promotions is pleased to announce the signing of Lamont Peterson.  We've worked with him on fights dating back to 2010 when he fought Victor Ortiz in Las Vegas and are very excited to welcome him to our team.
"We've seen him fight our fighters, so we know what he's capable of.
"We can offer Lamont a lot of possibilities for big fights [at 140 pounds].  If he wants to move up in weight, we have big-name fighters at welterweight too.
"He's fought against Golden Boy fighters in the past and we are excited he's now becoming one of them.