"King" Khan suffered a severe setback in December when he dropped a close decision to Lamont Peterson. Khan went from contesting Timothy Bradley's place as the division's top dog to again suffering (somewhat unfairly) the same questions that dogged him after his knockout loss to Breidis Prescott. Soon he will get his chance to silence the doubters, at least for a while, when he meets Peterson for a May 19 rematch in Las Vegas.
Amir Khan (26-2, 18 KOs)
5'10" tall, 71″ reach, 25 years old
Briton
Former Commonwealth Lightweight Champion; Former WBA-IBF Super Lightweight Champion – has been renamed WBA titleholder ahead of this rematch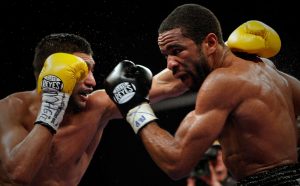 Excuses abound for why Khan lost to Peterson. Khan's camp pointed to mysterious interference by IBF hanger-on Mustafa Ameen, but later dropped those charges. Others speculate that Khan had an off night, while others say the deductions for fouling were unwarranted. Personally, I think Peterson's hometown advantage pushed him over the top in what was a close fight.
However you look at it, there is no reason to be mocking King Khan at this point. He remains an athletic, lanky, long-armed, speedy boxer-puncher with mule-kick power, and although dogged by a suspect chin, Khan is the real deal. Instead of ruminating about how Khan is overrated, the pundits ought to be praising the underrated Lamont Peterson!
Lamont Peterson (30-1-1, 15 KOs)
5'9″ tall, 72″ reach, 28 years old
American
IBF Super Lightweight Champion

I think too many pundits were too quick to write off Peterson after the spanking Timothy Bradley gave him in 2009, as well as too quick to overlook that Peterson held Victor Ortiz to a Draw in 2010. Bradley was the division's top dog before moving up to 147 lbs, and Ortiz moved up to 147 lbs to dethrone Andre Berto. If both those fights had been given their proper merit, Peterson would never have been discounted as a mere "name" opponent for Khan, a mistake some commentators made.
The bottom line on Lamont Peterson is that he is a world class slickster, and what he lacks in punching power he makes up for in skills and savvy. He was good enough to narrowly defeat Khan the last time around, and anyone who takes him lightly does so at their own peril.
Peterson vs. Khan II Preview & Analysis
The thing most often missing from the commentaries I see on both the first fight and the rematch is a clear acknowledgement of just how close it was. Nelson Vasquez's score of 115-110 for Khan is laughably bad, but the other two judges scored it 113-112 for Peterson, while we scored it 113-112 for Khan. Peterson's going down in Round 1 was more than countered by the two point deductions that Khan suffered for pushing in Rounds 7 and 9, and the net result was a fight that could have easily gone either way depending on which way a variety of influencing factors swung, such as the ebullient DC crowd. In this instance, they mostly swung to Peterson. The problem for a rematch is that all those factors swinging towards Petersen again is hardly a given.
All things being equal, Khan wins this fight if for no other reason that it is unlikely he will suffer two point deductions and the crowd will be a neutral factor in Las Vegas. For Peterson's part, I think it is unlikely he'll allow himself to get caught and floored again, as he was in Round 1 of the first bout. Also, while Peterson fought his best fight the last time out, Khan did not. The guy with room for improvement is Khan.
So, I think things might go a little differently this time, if for no other reason than Khan will focus on beating Peterson like a laser beam. While he didn't take the DC native lightly last time around, but Khan was certainly looking past him to bigger and better things. Also, Peterson's best work in DC consisted of slick body punching, and historically the only fighter who has ever won big on body punching in Vegas was the rib-breaking Julio Cesar Chavez. Those two things ought to shift any close rounds into Khan's total.
Prediction: Amir Khan UD12 Lamont Peterson
Comments
comments