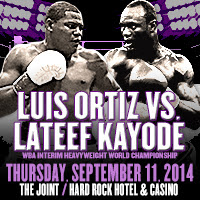 Lateef "Power" Kayode (20-0, 16 KO's) has been preparing for his bout against fellow undefeated Luis Ortiz (21-0, 18 KO's) on September 11 at Hard Rock Hotel in Las Vegas, Nevada. The resident of Hollywood, California and native of Lagos, Nigeria has been prepping for this major opportunity at the Wild Card Gym in Hollywood under the watchful eye of Hall of Fame trainer, Freddie Roach.
[Note: Kayode vs. Ortiz is being referred to as a heavyweight championship fight. It definitely is not that].
"It's going to be a great fight for both of us. It is a great opportunity to prove myself in the Heavyweight division," said Kayode.
Despite moving up from Cruiserweight, Kayode is not at all intimidated by Ortiz who will have close to a three-inch and 20-plus pound weight advantage.
"He is strong and big. I know that and it doesn't concern me at all. I spar a lot of big guys out here and I am used to it."
Kayode knows that a win over Ortiz will be the gateway for major opportunities in the Heavyweight division.
"I have been doing my job as I know this is a big opportunity. This fight will give me a Heavyweight title belt and that will only lead me into bigger fights."
Kayode gives a lot of credit to the man who helped secure this opportunity. That being his promoter Greg Cohen.
Cohen has a great history in the Heavyweight division as he has worked with Hasim Rahman, Shannon Briggs, James Toney and Samuel Peter to name a few.
Said Cohen, "Lateef is a bonafide Heavyweight with one punch power in either hand. Most people don't realize that the majority of his 21 fights have taken place at heavyweight (12 out of 21). After speaking with Freddie over the past few months, he implored me to do whatever needed to be done to secure the Ortiz fight, as Freddie believes the styles match up perfectly for Lateef to be successful. Both fighters are undefeated, extremely strong & both guys know that it's sink or swim time. At the end of the day I think Lateef's power and execution of Freddie's game plan will be the difference in the fight. It Won't be easy, but on September 11th, I expect Lateef's hand to be raised in victory and a new major player in the Heavyweight division will have arrived."
"I want to thank Greg Cohen for putting this together and I know on September 11, I will come out victorious. It is an opportunity that I have to take," continued Kayode.
The fight will kick off a monstrous fight weekend in Las Vegas as it will be a prelude to the rematch between Floyd Mayweather and Marcos Maidana that will take place two nights later at the MGM Grand.
"I want to thank the fans that will come to and watch our fight. It will be the start of a great boxing weekend. They say nobody wants to fight Ortiz. Well I am not scared and I will be there. I am not scared of anybody."
Kayode has much riding on the fight as he wants to follow in the footsteps of Peter and become the 2nd Heavyweight champion from Nigeria.
"My people back home will be very happy. For me to come home with the Heavyweight championship would be great. I am going to prove to everybody that I am the best and I will bring that title home to Nigeria," finished Kayode.