Lateef Kayode, 13-0 with 12 KOs & Freddie Roach Bringing some "Power" to Gary Shaw Productions
Gary Shaw announced the recent signing of undefeated North America Boxing Organization (NABO) cruiserweight champion and Top-10 contender LATEEF "Power" KAYODE to Gary Shaw Productions.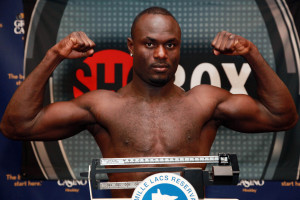 The 6'2 Kayode (13-0, 12 KOs), returns to the ring on Friday, October 15, seeking his 13th consecutive knockout victory, in a 10-round rumble against one-time world title challenger Epifanio Mendoza (30-9-1, 26 KOs) of Colombia.  The fight will take place at Buffalo Run Casino & Hotel in Miami, OK, on the non-televised undercard of former light heavyweight champion Antonio Tarver's heavyweight debut, which will be televised live on SHOWTIME, beginning at 11 p.m. ET/PT (delayed on the west coast.)
"Lateef is a hidden gem in the cruiserweight division.  He is extremely talented," said Gary Shaw.  "Lateef's work ethic and his desire to be a world champion will carry him to the top.  His explosive power is equal to any heavyweight on the scene today  The sky's the limit for him."
Trained by four-time Trainer of the Year Freddie Roach, and managed by Steve Feder, Kayode, 27, a native of Lagos, Nigeria, captured the NABO cruiserweight title in his last fight, on August 6, knocking out savvy veteran Alfredo Escalera, Jr. in the eighth round of the SHOWTIME nationally televised fight.  With the title came a career-high world rating by the World Boxing Organization (WBO) where he is currently the WBO's No. 9 cruiserweight contender.