Previewing the Full Fight Card for Pacquiao vs. Margarito; Undercard Fight Previews & Predictions:
Boxing fans are already anticipating fireworks to be produced when the Pac Man and Margarito step into the ring and get it on November 13, 2010 at Cowboys Staduim in Arlington, TX, but before the main event, there are three other fights that will be showcased that involve a fighter at the crossroads of his career, some up and coming talent, and a WBA Interim junior featherweight title fight that may produce some sparkles of its own.
The first fight that will kick off the Pacquiao vs. Margarito extravaganza will be a 10 round welterweight fight between undefeated Philadelphia native Mike "M.J." Jones and Mexican boxer Jesus "Renuente" Soto-Karass. Jones has an outstanding undefeated boxing record of 22 wins and no losses, and he is the current NABA and WBO NABO Welterweight champion.  Soto-Karass has a decent boxing record of 24 wins, 4 losses, 3 draws and 1 no contest.
Soto-Karass is coming off a no contest against fellow Mexican Gabriel Martinez in his last fight back in May of this year and before that, a loss to Alfonso Gomez back in November of 2009.  Jones has been sensational, knocking out his last two opponents, but he will be taken out of his comfort zone as most of his fights took place either in New Jersey or Philadelphia, PA.  This will be a fight where Jones will be able to impose his aggressive style on the limited Soto-Karass.
Jones vs. Soto-Karass Prediction: This will definitely be a great fight to start off the exciting night on November 13, and keep your eyes on the first fight because it's not going ten rounds, just a matter of time when Jones lower the boom on Soto-Karass.  Don't blink!!
The second fight on the undercard will be for the WBA Interim junior featherweight title as Cuban star Guillermo "The Jackal" Rigondeaux will take on Panama native Ricardo "Maestrito" Cordoba. The Jackal just turned professional last year, but boasts an undefeated record of 6 wins and no losses, and a huge wealth of top-level amateur experience.  Cordoba has a great boxing record also, consisting of 37 wins, 2 losses, and 2 draws.
Rigondeaux has faced mediocre competition during his short stint as a professional fighter, while Cordoba has faced some good competition. Cordoba has won his last three fights, which includes a tenth round technical knockout victory over Columbian junior featherweight star Eddy Julio.  Let's see, both of these fighters are southpaws, Cordoba is a puncher, Rigondeaux is a great counter-puncher, but the real experience, regardless of the pro records, lays with Rigondeaux.
Rigondeaux vs. Cordoba Prediction: I expect Rigondeaux to outbox Cordoda and in the end, Rigondeaux will get pass his toughest opponent that he has faced so far in his professional career.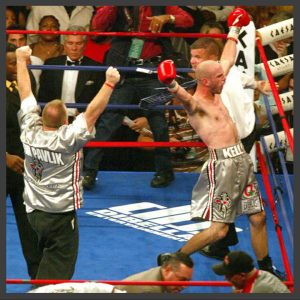 The final matchup before Pacquiao and Margarito step into the squared circle is the headliner of the undercard when former WBC and WBO middleweight champion Kelly "The Ghost" Pavlik takes on Texas born Bryan Vera in a fight where Kelly Pavlik must win if he wants to continue to be recognized as one of the top fighters in the middleweight classes.  This fight will take place in the 168 pound division and is schedule for 10 rounds.
Pavlik's boxing record is an outstanding one, consisting of 32 wins and 2 losses.  Bryan Vera has a decent boxing record of 17 wins and 5 losses.
The last time Pavlik stepped into the ring, he was out gutted by the rough and rugged Argentinean Sergio Martinez in a fight where Pavlik came back from an early deficit to seize the momentum in the middle of the bout, but Martinez's pressure became a huge problem for Pavlik as Pavlik tired down the stretch and simply could not see because of the cut over his left eye.  Martinez was awarded the twelve round unanimous decision victory and Pavlik's middleweight titles.
In his last five fights, Bryan Vera has lost four of them, so what kind of fight game can he execute against Pavlik on Novermber 13?  Vera will not be able to do anything against Pavlik, as I expect Pavlik to win in impressive fashion in his first fight on the comeback trail.  Vera stands right in front of his opponents and comes straight forward.
Pavlik vs. Vera Prediction: This is a tailor-made opponent for the Youngstown, OH hero.  Pavlik should win this fight within the distance, and before the middle rounds, but I have seen stranger things in the sport of boxing.
Overall, the undercard for the Pacquiao vs. Margarito will be a great one.  November 13, 2010 will be a memorable night as boxing stars will be born, and "The Ghost" should rise again. On the night of the big event, don't forget to check out the live Pacquiao vs. Margarito results from ProBoxing-Fans.com.