Brandun Lee is creating noise within the boxing circle and is on the cusp of really establishing himself in a thriving Super Lightweight mix.
Lee (21-0, 19 KOs), who excelled as an amateur with almost 200 fights to his name, has continued his form into the paid ranks and extended his perfect record with a third round stoppage win over Dakota Linger in December and his knockout steak to 12 in succession.
The Californian seemed destined for big things in the sport after remarkably sparring then Welterweight world champion, Timothy Bradley at just 14-years-old, an experience he reflects on fondly.
"It was great work," Lee recalled to proboxing-fans.com of the spar with Bradley.
"Sparring a world champion at the time gave me even more motivation, because I mean I'm just a little kid and I'm sparring a world champion, so that boosted my confidence.
"Timothy Bradley is a great guy, I see him once in a while, because he lives where I live in the same city, same valley, so every time I see him he's always giving me pointers, always giving me advice, so great person.
View this post on Instagram
"I do remember after the sparring, he asked me how did I do some kind of move, the way I turned my body or something, because I was moving around the ring, he goes 'how did you move around the ring or something.'"
The 21-year-old is in a unique position, not only plying his trade in the ring, but also studying a major in Criminal Justice at Cal State San Bernardino.
Lee admits the priority is to fulfill his goals in the sport, but says his degree will serve him for a career after boxing and hopes that his work ethic can inspire the next generation.
"My parents always told me you need to have a plan B, so I said primarily my parents.
"First of all not that many people are doing it, like you said you've never heard of anyone.
"So I'm kind of a role model to the younger generation, because they're looking at me and they're saying 'wow, he's a professional fighter but at the same time he's pursuing his studies', so I'd say it's kind of like trying to become a role model at the same time, fulfilling my parents' dreams."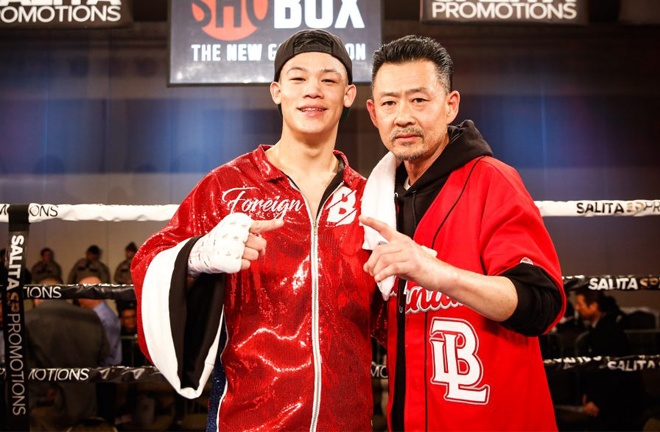 Lee who is trained by his father, Bobby, announced his fight date on Friday night, returning to action on March 10, on SHOWBOX.
The highly-rated 140lbs contender is hopeful that this year will see him rubber-stamp his name on the division and believes he is three fights away from securing a major world title birth, with unified champions, Josh Taylor and Jose Ramirez holding two world title belts each.
View this post on Instagram
Lee is targeting a shot at the IBO Super Lightweight world title, held by Jeremias Nicolas Ponce and in doing so fight for the same belt his good friend and unbeaten Welterweight, Jaron Ennis fought for in December, which was declared a no contest after an accidental first round head clash with Chris van Heerden.
"I think my next fight is going to be most definitely the best fighter I've fought to date, so I'm looking forward to it.
"I'm looking at the IBO world title, my good friend 'Boots' Ennis he fought for the IBO world title and unfortunately in the first round the headbutt happened, we all know who was going to win the fight, 'Boots' was clearly going to knock him out within two or three.
"Boots went for his world title, so I think it's time I go for my world title in the next three fights.
"I feel like this is my breakout year. I feel like they know who I am, but they're just waiting to see if I can pull the trigger and I think once I do pull the trigger, they'll definitely give me the respect.
"Like I said, next three fights I want to go for a world title, within three fights."
Watch the full interview with Brandun Lee below: