Promoter Sampson Lewkowicz would like to congratulate his newest world champion, Kiko "La Sensacion" Martinez of Alicante, Spain, for his thrilling sixth-round stoppage over Jhonatan "Momo" Romero to win the IBF Super Bantamweight World Championship on Saturday night.
Fighting on the undercard of the Geale vs. Barker middleweight fight, Martinez (29-4, 21 KOs) turned in a career-best performance as he battered and then finally stopped the formerly undefeated champion (23-1, 12 KOs) at 2:40 of the sixth.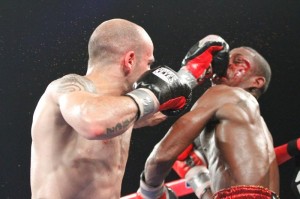 "The bull was too strong for the matador," said the proud Lewkowicz, still elated by Martinez's upset victory. "I am so happy for Kiko, as he worked very hard for this victory. We always knew he was a champion and now the world knows."
Lewkowicz, known for discovering international talent, has had several world champions under his promotional or advisory aegis. However, this was Martinez's manager, world middleweight champion Sergio "Maravilla" Martinez's, first world champion in a managerial role.
"Kiko is the first champion for Maravilla Box, Sergio's management company," continued Lewkowicz. "Sergio was a guest on Spanish TV, who also broadcast the fight, and when it was over he cried tears of joy on national TV. This is a very emotional victory for all of us involved with Kiko, who is a fighter who deserves his success. He works very hard for everything he gets."
Lewkowicz also wishes to send congratulations to other fighters he promotes and/or co-promotes who scored victories Saturday night at the "Boxing in Paradise 6" show, held at Antilles School's Mark C. Marin Center in Saint Thomas, U.S. Virgin Islands.
Topping the bill that night were "The Hawk's Flock", the sons and nephew of legendary world champion Julian Jackson.
Junior middleweight son John "Dah Rock" Jackson (17-1, 14 KOs) defeated Tony Hirsch by eight-round unanimous decision (scores: 79-73, 77-75 and 78-74), while super middleweight son Julius "The Chef" Jackson (16-0, 12 KOs) scored a TKO 1 North Carolina's Julius Fogle. Junior middleweight nephew Samuel "The Hunter" Rogers (14-0, 8 KOs) notched a TKO 2 Eduardo Adorno (time 1:26).
All three are co-promoted by Sampson Boxing and Leslie Commissiong and Jose Rosario of 340 Promotions.
Other Sampson Boxing prospects to emerge victorious were Las Vegas resident and undefeated junior featherweight Rocco Santomauro (11-0, 1 KO), who scored a unanimous six-round decision (scores: 60-54, 59-55 and 59-55) over Christian Fernandez and Puerto Rican junior welterweight Daniel Rosario Cruz (5-0, 4 KOs) who needed just 25 seconds to stop Jordan Wisenfeld.
"I congratulate all my fighters for their victories on Saturday night," said Sampson Lewkowicz. "They are at different levels in their careers, but each one moved forward and that was the goal. They were all impressive in their performances and I'm very happy a sold-out crowd got to watch them in action. I wish to thank my promotional partners, 340 Promotions for being so wonderful to work with and I am looking forward to the next show in this island paradise."