This was an extremely busy boxing weekend, and some of the action was centered on the lightweight and junior welterweight divisions, where we saw Antonio DeMarco score a stunning 1st round knockout in the latter, and Lucas Matthysse pummel and pound his way to another stoppage win over Ajose Olusegun in the former. Right here, it's time to update the top 10 rankings in each of those weight classes to see where everybody stands today.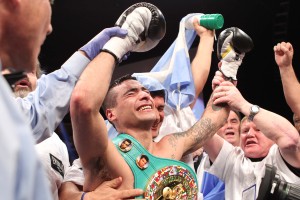 Molina was certainly the underdog against DeMarco, but many fans were expecting an exciting, back and forth affair. Instead, the fight barely got moving before DeMarco stunned him, then piled on the pressure and stopped him in just a minute of action. Certainly, it cements his status as one of the division's best, while sending Molina back to the bottom of the list.
Meanwhile, how high does Matthysse climb at 140 lbs now? It was a punishing, bruising performance from Lucas Matthysse against a highly regarded opponent in Ajose. With the interim WBC title, he'll now be able to score some bigger fights, and hopefully ones which aren't all in his opponent's hometown.
So go ahead and take a peek at our updated rankings for the lightweight division and junior welterweight division following the knockout performances of DeMarco and Matthysse.