Yoan Pablo Hernandez (26-1, 13 KOs) is aiming to defend his IBF Cuiserweight Title for the second time in a row. The Cuban made the title his own after dethroning then champion Steve Cunningham last October, as well as winning the rematch against the American just four months later. His next opponent is Canada's Troy Ross (25-2, 16 KOs) who he will take on at the Stechert Arena in Bamberg, Germany on September 15. Ross, who is the mandatory challenger, has been part of the professional boxing scene for eleven years and fought in five different countries.
The IBF Title contender flew into Germany on September 1 and trying to get used to the six hours time difference between Germany and his hometown Toronto, Canada. Before the fight he took some time out for an Interview.
Troy Ross, your last fight was in February against Lukasz Rusiewicz which you won by a unanimous decision. Now seven months on, how do you feel about that fight and what will you take out of it for your upcoming bout?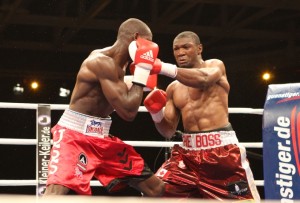 Troy Ross: I did really well during that fight. I proved that I am a technically gifted boxer. Beforehand I have not been inside a ring for quite a while, so I was still a bit rusty. Nevertheless, I was the dominant boxer  throughout the fight and Rusiewicz didn't stand a chance. Now I am back to my best and as good as ever.
Two years ago, you already had a title shot for the IBF crown, against then-champion Steve Cunningham. That fight ended in a loss. Do you feel added pressure now that you will have your second chance for the IBF title, which, given your age of 37 years, could be your last?
Troy Ross: It doesn't bother me in the slightest. I am fully concentrated on myself and don't pay attention to anything else. I am in really good shape and therefore I don't fear anyone. I have matured since my last title bout and gained more experience. That will show on September 15.
Your next opponent, current IBF Champion Yoan Pablo Hernandez, dethroned Cunningham and has since won a rematch against him. You were actually present during the rematch. How do you think he performed against Cunningham and were you impressed?
Troy Ross: I didn't pay too much attention to that fight. I just know that I will have to box smart. His strengths are his speed and power. I will have to be careful with that. His weaknesses will show once he is inside the ring with me.
Could the fact that he is almost 5 inches taller than you be a decisive factor?
Troy Ross: I have always been quite small for a Cruiserweight. Throughout my career, my opponents have mostly been taller than me. Therefore, I am used to fighting bigger guys. His height causes me no worries whatsoever.
How will the clash on September 15 between you and Hernandez end?
Troy Ross: As a person, I am always very positive. I know that I will beat Hernandez come September 15. I will rip his title from him, which rightfully belongs to me anyways.