Wladimir Klitschko vs. David Haye Round by Round Results & Updates:
The Klitschko vs. Haye fight is finally here. After years of negotiations, and months of anticipation, on Saturday, July 2nd, the two finally will put all on the line in the squared circle. You can come right here to ProBoxing-Fans.com for live round by round Klitschko vs. Haye results. The fight will be airing live on HBO from Germany at 4:45 pm Eastern, and then will be aired again this evening at a more normal fight time of 9:30 pm.
This post will have all of the full results as they happen LIVE, which means if you're waiting to watch the fight until Saturday night, DO NOT read any further! For the rest of you, enjoy the live results and round by round coverage below.
Klitschko vs. Haye Scorecard
| | | | | | | | | | | | | | |
| --- | --- | --- | --- | --- | --- | --- | --- | --- | --- | --- | --- | --- | --- |
| Round | 1 | 2 | 3 | 4 | 5 | 6 | 7 | 8 | 9 | 10 | 11 | 12 | Total |
| Wladimir Klitschko | 9 | 10 | 9 | 9 | 10 | 10 | 9 | 10 | 10 | 10 | 10 | 10 | 116 |
| David Haye | 10 | 9 | 10 | 10 | 9 | 9 | 9 | 9 | 9 | 9 | 8 | 9 | 110 |
Klitschko vs. Haye Event Notes & Updates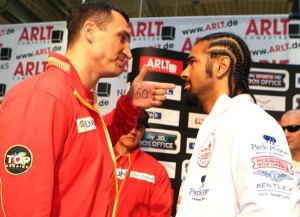 Klitschko vs. Haye fight time: Telecast is scheduled to begin at 4:45 pm Eastern time, Saturday July 2nd.
4:45 PM – Alright folks, the HBO broadcast for Klitschko-Haye is officially underway, we get an intro about the reign of Wlad Klitschko but the questions that linger, the emerging challenge of Haye, etc. We see some good trash talking, of which there has been no shortage…
Alright and we're live in Hamburg, Germany, and we learn about the issues of terrible pouring rain all day, and how there have been questions about the potential for the fight to be postponed. However, the undercard has been going off without too many issues, and they are going to change out the ring canvas with a fresh one underneath right before the fight to try to minimize issues with slickness, etc.
Emanuel Steward is interviewed by Larry Merchant, and he talks about the bad conditions with the weather, and how they just hope the fight goes off. He also says that because of the weather, they want to get ahead early in case something happens and the fight is stopped and goes to the scorecards.
4:58 pm – Time for the ring walks, David Haye's huge talking face appears on a screen, and Buffer introduces Haye. But first Lennox Lewis struts out with the tune "Aint No Stopping Us Now"… however, there's a delay and we're waiting, and the British fans sing along with the song in the meantime. The lights come back on and then Michael Buffer makes an announcement, and we're still waiting, four minutes later… and the announcement in German says Haye isn't ready yet… Geesh.
And we're in full on time-wasting time mode. Going back to tale of the tape talk, weigh-in footage, etc. Still waiting… paging Mr. Haye?!
10 minutes later and we're waiting. Is Haye getting into Klitschko's head more? Or is he catching a cab to the airport?
Aha, Haye shows up and begins slowly strolling out, flanked by some huge bodyguards. And he puts on plastic covers for his boots to cope with the weather, and he's on his way. Finally. Really. I mean it.
Haye can barely make his way through the extremely drunk British masses lining the way to the ring. Shyte mates, let the man get into the ring, that's what you're here for.
5:12 PM: 14 minutes later (!) and it's Klitschko's turn. We see an elaborate behind the scenes setup with a mock boxing gym and people watching a promo on a movie theater screen, and guys in a park reading a newspaper, one of which is Vitali Klitschko, the other of which is George Foreman. This is hilarious. Red Hot Chili Peppers is blasting, and Foreman goes to get Wlad, and Wlad comes out and the boos are resoundingly loud.
Klitschko looks focused on his way to the ring, what a scene these ring walks were. Never seen anything like it, Apollo Creed vs. Drago in Rocky IV included. OK, 5:18 pm, and both guys are in the ring… and it's anthem time
5:23: Buffer makes the introductions and we're about ready… 5:26.. things take a long time with this bout.. ok, we're ready not and about to hear the first bell.. ding ding ding…

Klitschko vs. Haye Round by Round Results
Rd 1: Haye comes out and dashes to the center of the ring, throws some jabs, uses a lot of quick movement. Klitschko hasn't thrown a real punch 60 seconds in. Klitschko tosses Haye to the canvas in a clinch, but looked like he slipped more than anything. Klitschko jabbing now, half-pawing though. Haye throws a big right and a left hook, misses with both. Not much happening either way, Haye bulls forward right before the bell and launches a few shots that miss. Maybe a Haye round based on aggressiveness.
Rd 2: Wlad comes out quick this time and throws a hard 1-2. Wlad looks eager in there. Haye looking to counter Wlad's aggressiveness, then leads with a 1-2, and another a moment later, everything misses. Haye has to jump and lunge in with his shots to try to land. Klitschko lands a good jab. Haye makes him miss with some quick head fakes, he is bobbing and weaving a lot, trying to get Klitschko to commit so he can counter while in range. Klitschko almost connects with a right. Haye goes to the body, then misses with a jab. Lands a soft right, Klitschko comes forward at the bell. Wlad's round.
Rd 3: Round starts out slowly, Haye bouncing aruond a lot. Lunges in and lands a big right, Klitschko unfazed. But perhaps looks a little nervous. Haye lands a jab. Klitschko's nose looks a little bloody. Klitschko looks a little tight, throws a big 1-2 but misses. Haye looks loose. Klitschko gets Haye to the ropes and lands a few shots, Haye moves away and circles back to the center. A clinch brings Haye to his knees, and he holds his back. Haye trying to get a foul called on Klitschko. Haye's round on the strength of that big shot early, but Wlad made it close late.
Rd 4: Klitschko lands a decent right, Haye throws some jabs and starts yapping away, shouting at Klitschko as he backs up to the ropes. Wlad looks dialed in, but still tight, he paws with a jab and hook. Haye smiles, jabs to the body, lunges in and misses. Haye bouncing around a lot. Klitschko throws a big 1-2 that barely misses. Haye half connects with a lunging right to the side of the head. His round for making the fight but not much. Lands a big right a half second after the bell for good measure.
Rd 5: So much pawing by Klitschko, so much bouncing by Haye. Klitschko jabbing and jabbing. Haye not throwing anything this round.  Taking the round off? Klitschko not landing anything much, but staying busy and coming forward this round. Lands a big 1-2 just as I type that and Haye falls back a bit, almost buckles, then bulls forward and smiles. But that was the best connect of the fight so far by either man.
Rd 6: Crowd is quieter now, and Wlad is more aggressive. Steward is really getting on him in the corner to not give these rounds and his championship away. Haye using his jab a lot, but Wlad's is better. Haye falls toe the canvas again, really seeking out that point deduction. Klitschko cut under his left eye. Haye lands a jab, Klitschko misses with a few, Haye tries a jab to the body. Wlad connects with a soft jab, and another, Haye using lots of feinting. Klitschko misses with a big 1-2, Haye lunges forward then runs away as the bell sounds.
Rd 7: Klitschko lands a big left hook, Haye goes to the canvas again. AND AS MENTIONED – KLITSCHKO LOSES A POINT! Haye's tactic works! Ridiculous. Both men very inactive this round. Bounce, bounce, bounce by Haye. Stalk and paw by Klitschko. Haye bobs then comes up with a quick left that lands. But not much follows it, Haye backing up constantly… Even round with the point deduction.
Rd 8: Klitschko gets Haye in the corner but doesn't land anything for it. Haye comes forward with a lunging 1-2, half connects. Wlad lands a jab. Haye down to the canvas again, trying to get more point deductions. Sheesh. Fight turning from interesting to suspenseful but without much action… to boring… Wlad's round by default here.
Rd 9: Haye lands a big right in the 9th and has Wlad off balance, but nothing follows it. Klitschko staying steady. Looking for that big right hand. Haye FALLS, AGAIN! Finally the referee warns Haye… this has been absurd. Wlad working in the left hook but missing. They each land a jab. Wlad snaps Haye's head with a jab. Haye lands a lunging right. Wlad presses forward, lands a jab. He's starting to look tired. Lands a lead right. Lands a right uppercut of sorts to an off-balance Haye. Wlad's round.
Rd 10: Wlad coming out working behind that jab. Haye still waiting for a mistake but it's not coming, and he's not throwing enough otherwise. Wlad misses with a big right. Haye goes down AGAIN. WTF. This round has nada going on. Wlad winning the battle of nada by throwing more and coming forward, controlling with the jab. One good right for Klitschko ends right before the bell as Hayes clinches.
Rd 11: Haye throws a jab to start, and Wlad answers with a better one. Wlad lands a left hook that was half-push, and Haye goes to the canvas and complains. The referee calls it a knockdown, and well, a punch did land so there you go. Haye got what he asked for with all of the flopping. Haye rushes forward and clinches, they break, Klitschko controlling. Haye still trying to lunge in and land a big right, but he's missing big, he bulls forward and falls again, referee warns him again. Bell.
Rd 12: Haye manages to land a big right and has Klitschko holding on! Crowd is going crazy now, and Haye looks fired up to try to get the knockout. Wlad looks pissed and he is coming forward with anger looking to land his own heavy shots. But he's holding his hands down and leaning forward. Haye misses with a big right and a big hook. Klitschko still has his hands down, the brief moment of excitement has passed. Haye comes forward and they clinch, each throwing, and the fight ends. Miraculously, Haye raises his hand at the end of the fight as if he thinks he won.
ProBoxing-Fans.com has the fight unofficially scored 116-110 for Klitschko.
And we have the official judges' cards, and they read 117-109, 118-108, 116-110, a wide Unanimous Decision for Wladimir Klitschko, Dr. Steelhammer himself. Cards were all basically right on.
Thanks for checking out all of our live coverage and  updates for the biggest heavyweight title fight in a decade, Klitschko vs. Haye. Tune back into ProBoxing-Fans.com later in the weekend for more of the latest breaking boxing news, and for more Klitschko vs. Haye results breakdown, post-fight coverage, analysis, columns and more.