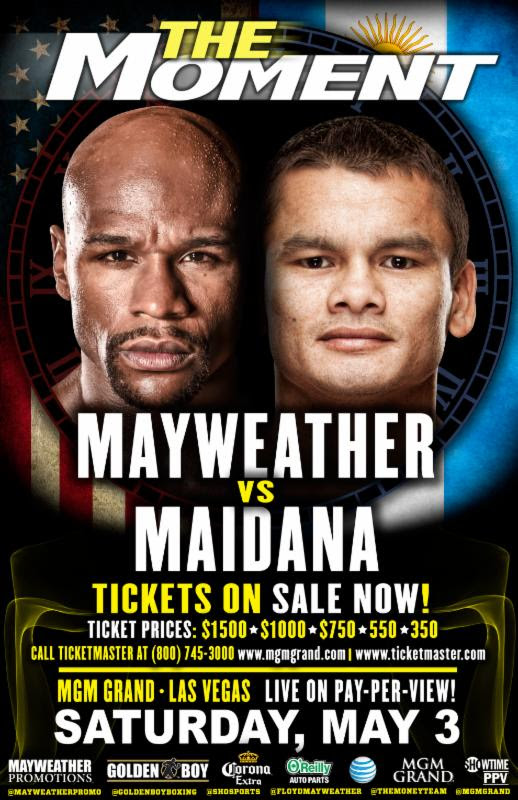 Follow our Mayweather vs. Maidana Round by Round Results Tonight:
The Moment is finally here, tonight, on Showtime PPV! Floyd Mayweather takes on Marcos Maidana and attempts to continue his dominance of the entire sport and his pound for pound status, as Maidana looks to shock the world. Right here, you can hang out with ProBoxing-Fans.com and follow along with our live Mayweather vs. Maidana results coverage and round by round blog.
So, what can you expect from the fights on The Moment pay-per-view? Maidana caused a huge stir when he beat up, and upset, Adrien Broner in his last outing, which is what earned him this date. Now, he'll try to do the same against Mayweather, a much more difficult challenge of course.
Mayweather has faced this type of opponent before, but few men have the sheer power and determination that Maidana brings to the table, and he has always thrived in and relished the underdog role. The Mayweather vs. Maidana results will definitely have fans talking one way or the other!
Amir Khan, who was left waiting in the wings for his chance to fight Mayweather, returns to action on the undercard versus Luis Collazo. The winner there will be in prime position for some major fights in the future.
Meanwhile, Broner also returns to action for the first time since the defeat at Maidana's hands. The fourth fight of the card showcases J'Leon Love vs. Marco Antonio Periban. So top to bottom, this is a quality four fights, and should provide plenty of great entertainment and action.
Mayweather vs. Maidana Fight Time
The Mayweather vs. Maidana pay-per-view begins at 9 pm Eastern on Saturday night. There are three undercard fights before the main event. Depending on how long they last, that means you can expect the Mayweather vs. Maidana fight time to be at about 12 am, midnight. If there are a couple of knockouts leading up to the main event, it could be earlier than that.
You don't want to miss out on any of the great action from all four of these intriguing bouts. So we're inviting you to hang out with us, and follow along with our ongoing coverage for the entire night. Invite your friends and come check out our live Mayweather vs. Maidana results!