Claiming a world title in a third weight division, and only his 12th Professional fight, Vasyl Lomachenko made boxing history stopping Jorge Linares.
A packed Madison Square Garden on Saturday, saw the Ukranian being put down in the sixth round. That didn't stop him from going on to take the WBA lightweight world title in the 10th round with a vicious left to the body of Linares.
"My father told me, 'you need to go to the body'," Lomachenko said.

"I prepared for the last few rounds and I knew about this punch, but I thought I already did what I needed to do. I was wrong and he caught me.

He's a great fighter and he gave me one more lesson in boxing."
Linares has asked for a re-match. He was at one point in the contest leading on points, and insisted he could have continued. He went on to say after the fight that he would like a rematch following the end of his 13-fight winning streak.
Lomachenko, in his first lightweight fight, found himself caught by a straight right to the nose in the latter stages of the sixth. This saw the Ukrainian hit the floor. However, within two additional rounds he managed to open Linares up with a cut above his left eye which he carried on targeting.
A number of punches in the 10th from Lomachenko saw Linares hit the canvas and proved convincing for the referee, Ricky Gonzalez to award Lomachenko victory by technical knockout and bring the tie to an end.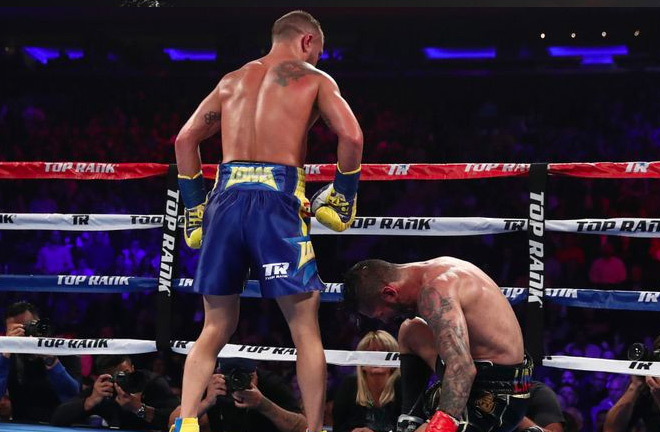 "Going into this fight, we knew 'Loma' was a huge talent," said Lomachenko's promoter, Bob Arum. "After this fight, we know now that he's a fighter."
No man has claimed titles in three divisions faster, with Australian Jeff Fenech doing so in his 20th bout and greats such as Oscar de la Hoya (22 fights), Floyd Mayweather (34) and Manny Pacquiao (41) needing longer to achieve the feat.
Check out Anthony Fowler's tweet below containing video of the 6th round knock-down and final flurry of punches in the 10th that bought the battle to an end.
Surprised to see Lomachenko go down but Linares right hand is unbelievable, Lomachenko gets up to grind down Jorge to make history, 2 legends of the game 🤖👑 #lomachenkolinares pic.twitter.com/vL8YOVI6rb

— Anthony Fowler (@afowler06) May 13, 2018