Peterson vs. Matthysse Results –
Lucas Matthysse continued his path of destruction through the Junior Welterweight division, laying waste to Lamont Peterson within 3 rounds on Saturday night at Boardwalk Hall in Atlantic City, NJ, in the main event of a Showtime Championship Boxing card. Matthysse scored a 3rd round TKO victory over Peterson, with an official time of stoppage at 2:14 in Round 3 after registering three knockdowns en route to the landslide victory.
With the win, Matthysse now has his sights set for Danny Garcia, in what should be another epic match in the absolutely loaded 140 lbs division.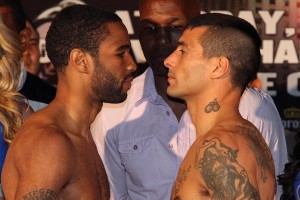 The fight began slowly, as Peterson looked to establish his jab and utilize the full space around the ring. Matthysse spent the first round looking for ways inside, and attempting to figure out the distance and pacing of the fight. Peterson took the round with his ring generalship and boxing.
Round 2 began with more of the same, but Matthysse began connecting with harder shots. Before long, Peterson could already be seen feeling the effects of the blows. After landing a nice right hand to the body with Peterson against the ropes, Matthysse launched a looping left hook that glanced off the top of Peterson's head. The glancing blow along the temple was enough to distort Peterson's equilibrium and send him to the canvas, and it would be the beginning of the end.
While Peterson recovered from that knockdown, he never got back in the fight. In an exchange in Round 3, Matthysse demolished Peterson with a left hook that sent him flying down to the canvas. Peterson stumbled on his way up, but eventually beat the count on shaky legs. Referee Steve Smoger let the fight go on.
However, just seconds later, Matthysse would finish the job. He landed another left hook that sent Peterson down, and this time Smoger wisely waved the bout off.
A very impressive outing for Matthysse here against top competition.
In earlier action, previous Matthysse opponent Devon Alexander dominated late-replacement Lee Purdy. Purdy proved to be game and durable, but not much more than a target for Alexander, despite an injury to the left hand that made Alexander rely nearly solely on his southpaw right jab, and right hook. Alexander continued pummeling him and doing damage round after round until Purdy's corner called things off.
Thanks for checking out our coverage of the fight, and be sure to come back later this weekend for more analysis, photos and coverage of the Peterson vs. Matthysse results.