April 18 sees major boxing action in Verona, New York as the #1 junior welterweight Lucas "La Maquina" Matthysse receives the challenge of #8 contender Ruslan Provodnikov. Although set in the U.S., this is an all-international match-up of Argentina vs. Russia, and what is more the clash pits Matthysse the knockout artist against the rugged Provodnikov.
Ruslan Provodnikov (24-3, 17 KOs)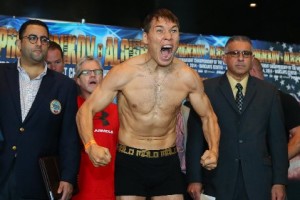 5'6″ tall, 66″ reach, 31 years old
Russian
Former junior welterweight titlist
A top class mauler, Provodnikov uses rugged durability, dogged determination, and brawling pressure to overcome his limitations in reach. He first entered the top ranks of the sport when he stretched Timothy Bradley to his limits in a welterweight clash, and followed up on that attention-getting performance with a win over Mike Alvarado and another close loss to Chris Algieri. Provodnikov's last fight was in his home turf of Russia, collecting an easy payday by pasting the tomato can that Jose Luis Castillo has become.
Lucas Martin Matthysse (36-3, 34 KOs)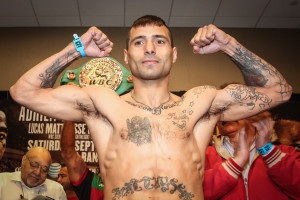 5'6 1/2″ tall, 69″ reach, 32 years old
Argentine
Former junior welterweight titlist
Lucas Matthysse is arguably the deadliest shooter in the 140 lbs weight class. He might not be the most powerful in raw horsepower terms, but his technique and offensive prowess puts him over the top, felling opponents like tenpins.
The thing about Matthysse is that his track record is one of being narrowly eeked out in fights with other top opponents. For all his ability, the sole big win of his career his TKO3 of Lamont Peterson. Otherwise he got edged by Zab Judah and Devon Alexander, both of which he feels he won, and lost clean to Danny Garcia.
Matthysse vs. Provodnikov Analysis
What we have here are two guys who tend to lose when matched against another Top 10 fighter, although lose by thin margins. Yet despite that parity of a kind, it is Matthysse that holds all the advantages going into this fight.
Provodnikov shows a tendency to become gassed after five or six rounds of hard action, while Matthysse can fight straight through for 12 rounds. The Argentine isn't the kind of sticker and mover than gives Provodnikov headaches, but he can fight on his back heel if he needs to, and still bring down the hammer while doing so. Finally, Matthysse has the reach. Overall, those three things say Matthysse ought to avoid the worst of the Provodnikov onslaught and come to capitalize in the later rounds.
Matthysse vs. Provodnikov Preview
This fight is going to see some fierce action in its first half, as Provodnikov forces the action. If he can get by Matthysse's guided missiles, and he will, he will bust up and rough up the hard hitting Argentine. Yet the Russian will pay a price for doing so, both in terms of the damage he takes getting in and in the work rate he must sustain.
La Maquina will grind him down and start scoring hard by the middle of the fight, but the tough Russian won't go down. Battered and cut, yes, but not down.
Prediction: Lucas Matthysse UD12 Ruslan Provodnikov