Having cemented a multi-fight deal with Showtime, Lucian Bute has emerged as the big winner in the super middleweight sweepstakes. The southpaw from Romania has successfully vaulted from a successful run of HBO-televised fights and landed the kind of contract that Showtime is stingy about giving to anyone. Even if Bute ultimately comes to grief and loses his undefeated status, he will have succeeded in heaping tons of exposure on himself and earned a bathtub full of money in the process.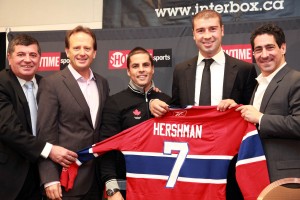 From a business point of view, Bute has been doing very well indeed. Since he captured the IBF Super Middleweight Title in October 2007, Bute has had an incredible amount of television exposure, so much so that his rivals at 168 lbs can only be scratching their heads and wondering why they aren't receiving as much air time. Six of Bute's last eight bouts were aired on ESPN, Showtime and HBO, and his last untelevised bout was the February 2008 clash with William Joppy. When one considers that Bute has yet to challenge a fighter in the top half of the super middleweight top ten, Bute's championship reign can only be described as charmed.
Now Bute has leapt right over the Super Six Tournament and found himself in an ideal position to challenge the tournament's ultimate champion. Showtime's motivation for signing Bute was clearly to bring in the only high-ranking 168 lbs. fighter who was not part of the tournament and set up a showdown with their champion. Given that Bute priced himself out of the risky bouts mandated by the tournament, there can be no doubt his first fight or two under the new Showtime contract will be either easy gimmes or very well-paid indeed, and all of it televised and none of it likely to be against a dangerous opponent.
All the truly tough potential opponents are locked up by the Super Six, so instead of a tough fight with the likes of Arthur Abraham, Bute will instead dance with the likes of Jean Paul Mendy or Robert Steiglitz. Compare that to the fight history of Carl Froch, who has fought Jean Pascal, Jermain Taylor, Andre Dirrell, Mikkel Kessler and is set to duke it out with Abraham next. One advantage Bute will have over any winner of the Super Six is that he will surely be the fresher fighter.
Lucian Bute has plenty of critics, who at a minimum regard him as being somewhat overrated and the product of careful matchmaking. Even so, the boxing community has got to hand it to "Le Tombeur's" career management, which has been nothing short of outstanding.