Lucian Bute Makes another Title Defense:
On October 15th, in front of a rabid crowd in Montreal, Lucian Bute makes the 6th defense of his IBF Super Middleweight title against Jesse Brinkley. He also gets to stake another claim to be the best 168lber on the planet. With the other major names in the division otherwise engaged with the Showtime Super Six tournament, Bute is resigned to keeping himself busy by facing the best available contenders and mandatory challengers. Brinkley secured his first major title shot by pounding out an upset victory over Curtis Stevens in January and although not the most dangerous challenger Bute has faced, he does possess a "come to fight" mentality and name recognition due to his role in the first season of the popular TV reality show "The Contender".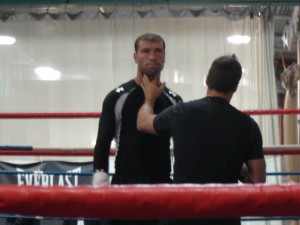 The Romanian born Bute has been adopted as a natural Canadian and the enthusiastic Montreal fight fans make the Bell Centre an intimidating place to visit. Combine this with the fact that Bute,30, seems to be improving with every fight and Brinkley has a massive challenge in front of him.
His third round knockout of Edison Miranda in April highlighted Bute's claims as the best of a talented group of super middleweights. Although Miranda has always fallen short at the highest level, the manner in which Bute dealt with him indicated he is growing into a complete fighter. Bute looked a weight division bigger than Miranda and effectively swatted away the Colombian's attacks. After a hard left to the body landed in the 3rd round, Miranda seemed to mentally crumble and the end came via a crushing left uppercut.
Previously to that Bute dealt out a 4 round beating to the tough Librado Andrade in a rematch of their controversial 2008 fight. Bute was in desperate trouble in the closing seconds of the first match and many gave Andrade a good shot of snatching the belt away when the pair met a year on. Instead Bute looked to have progressed to a totally different level. Bute boxed beautifully, moving away from Andrade's shots and picking him off as he came in. A counter left hook dropped Andrade in round 4 and a sickening body shot ended matters seconds later.
Southpaw Bute carries his right hand low and uses his jab to set up the left hand, which he throws equally well as a straight left of a hook. He is also a brutal body puncher and often finishes his combinations with a hard left hook to the body. It could be argued that the open and aggressive styles of his recent opponents have made him look better than he is as Bute is adept at fighting off the back foot. In his recent bouts, Bute seems to have developed one punch power and rarely lets a hurt opponent off the hook.
The 33 year old Brinkley is currently in the best form of his 13 year career and with the aforementioned Super Six tournament running, probably deserves a shot at Bute as much as anybody. The victory over Curtis Stevens in an IBF elimination bout in January was his best performance to date and the culmination of a 9 fight unbeaten run. Although Brinkley is found wanting for power at the highest level, his will to win and sheer grit enables him to grind opponents down. Stevens had promised an early knockout but was overwhelmed by the intensity Brinkley bought to the ring that night. The fight developed into an exciting give and take brawl with Brinkley always that one step ahead. Stevens was dropped in round 6, and then was out on his feet and badly hurt in the final round. Brinkley richly deserved the unanimous verdict in his favor.
The concern for Brinkley is that he has never faced anyone near the level Bute is currently at. Brinkley is the type of fighter who does everything well but nothing brilliantly and to make an impression at the highest level this isn't quite enough. In Bute, Brinkley faces a champion at the top of his game. With the next round of the Super Six scheduled to take place within the next 6 weeks, one imagines Bute will want to make a statement and ensure his name is not forgotten when talk turns to who the best super middleweight on the planet is.
Although Brinkley has been campaigning as a super middleweight for 5 years now and is a solid 168lber, he will be the smaller man in the ring. Bute is a big super middleweight, standing 6'2″, and will enjoy height and reach advantages. Brinkley cannot hope to compete with Bute's hand speed and will need to get inside and force Bute into a close quarters brawl to stand a chance. Brinkley will certainly not let the opportunity pass him by as his fellow "Contender" Sergio Mora did in his recent match with Shane Mosley. Brinkley has dreamt of fighting for a world title throughout a long career and will give his absolute all.
Bute vs. Brinkley Prediction
Sadly for Brinkley I see this bout developing in much the same way as Bute's most recent fights with Andrade and Miranda. Brinkley will look to take the fight to Bute and pressure him. Bute is not unused to these tactics and will initially fight on the back foot, sticking and moving and using the southpaw jab to set up his left hand. Brinkley's sheer desire may enable him to have some early success but although Bute can be hit, Brinkley lacks the weight in his shots to discourage the local hero. After softening Brinkley up, Bute will begin to stand and trade, using his superior hand speed to catch Brinkley with combinations and that horrible left to the body. The end should come by the midway point of the bout with the referee jumping in to save a brave Brinkley. Prediction: Bute by mid-round TKO