The On the Canvas mailbag is back yet again with another edition featuring the questions that you fans send in for us to take a look at. To be included in next week's mailbag, send your question to mailbag@www.proboxing-fans.com. We'll answer your question right here on the front page of ProBoxing-Fans.com. Take a look at this week's edition…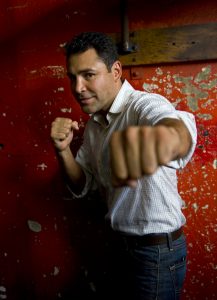 Mr. Thomas – what do you think of Oscar de la Hoya's idea of having a single boxing organization, like what MMA has in the UFC? (David C.)
I think having even a national supervisory/sanctioning body, nevermind an international one, would be a huge step forward for the sport. However, that isn't what boxing's leading promoter means. Oscar wants to form a UFC- or WWF-like near-monopoly on promoting fights, not regulating them. That has pros and cons. On the plus side, the best would fight the best more often, and up-and-coming fighters would see a big boost in promotional attention. On the minus side, Oscar would pocket most of the profits, and he would have enormous power within the sport. Boxing has, in fact, already had a Dana White-like figure at its helm. His name was Frankie Carbo, and although Oscar would run boxing like a corporation and not a mafia enterprise, one only needs to look at organizations like the UFC, WWF and the legacy of Carbo to see that a near-monopoly in boxing promotion would serve the interests of Golden Boy Promotions rather than fight fans.
Who is this Guillermo Jones guy who was in the boxing news this weekend? (Ron E.)
Jones is a Panamanian who was something like the Paul Williams of the 1990s. The guy is 6'4″, started his career at light middleweight, and is now a cruiserweight if that gives you any idea of why I make that analogy. In 1998, Jones challenged WBA 154 lbs. belt-holder Laurent Boudouani twice, earning a Draw and dropping a Split Decision loss in a pair of stinky decisions. The truth is he probably won both fights. Unable to gain any career traction at 154, he vaulted up first to 168 and then to 190. In 2002, he got another questionable Draw in a fight with Johnny Nelson for the WBO Cruiserweight Title. Steve Cunningham knocked him out in 2005, but he bounced back to stop Firat Aslan for the WBA 190 lbs. strap, no mean achievement since Aslan beat Virgil Hill and Darnell Wilson. This weekend, Jones popped former Aslan challenger Valery Brudov.
Don't forget to send in your question's for next week's mailbag: mailbag@www.proboxing-fans.com – All questions welcome