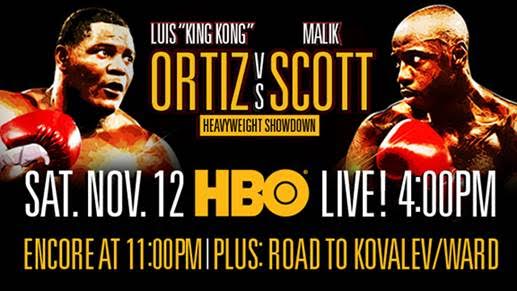 Knockout machine Luis "King Kong" Ortiz is one of the most exciting fighters in the tradition-rich heavyweight division. Now, he makes his first ring appearance across the Atlantic when HBO Boxing Luis Ortiz vs. Malik Scott is seen this Saturday at 4:00 p.m., live eastern and tape-delayed PTfrom the Salle des Etoiles in Monte Carlo, with an evening replay at 11:00 p.m.
Right here, we have several Ortiz vs. Scott preview videos, and fight week quotes from both.
Fighter Quotes
Luis Ortiz (25-0, 22 KOs) Quotes:
"I always had faith in my manager and friend, Jay Jimenez, but I never expected this fast turn around and I'm so excited about the future. God has been great to me and my family – I'm ready.
"I'm going to be very busy over the next few months and looking forward to boxing in many countries as we continue my journey to the heavyweight World championship.
"I am a very experienced fighter. I have had the best boxing education with more than 350 fights under my belt. I believe I have the ability to adjust to any fighter and any style. That was evident in my fights with Jennings and Thompson.
"I am very proud of myself. I'm also very proud how I am bringing Cuba back into the minds of all boxing fans. Cuba is one of the most accomplished countries in terms of boxing. The style and speed and all the things we have, they are taught to us at a very young age. This is what makes us great boxers.
"I want to fight the very best and I want to be the heavyweight champion of the world. I'm willing to fight anyone, any champion, any place, any time. I'm ready for anyone: Joshua, Wilder, Klitschko. I know I can beat all of them.
"I feel I have been at my peak for many years now. I have simply been late [arriving] on the US heavyweight boxing scene. I have been fighting since I was in elementary school. Boxing is a very, very deep passion of mine.
"Now, it is a way to give my family a better future, and I tell you, no one will stand in my way of accomplishing this. In my eyes, I am the heavyweight champion of the world and if anyone, any other champion, is willing to challenge me, to face me, I can and will prove it.
"I do have a lot of respect for the heavyweight champions. They have accomplished a lot and have sacrificed a lot to be where they are. They do deserve recognition. I just want the chance to beat them and be [seen by all as] the next true heavyweight champion.
"I think Fury was able to shake up the heavyweight division and because of him, the division is now one of the most exciting divisions to watch! I just want to get the opportunity to face him, or Wilder, to prove I am a champion as well."
Malik Scott (38-2-1, 13 KOs) Quotes:
"I don't want people to get the wrong end of the stick – I picked to fight Luis Ortiz. People have crowned him as the next king of the heavyweight division, so that's the kind of guy I want. If it wasn't him, I wanted to fight David Haye or Anthony Joshua.
"Is he the most feared? Anyone will fight him but for the right amount of money. He's a 6' 4" Cuban southpaw – he's got a hell of a pedigree, he can fight and he's dangerous – but that makes me want to fight him. I gravitate to risks like this, because the rewards out there are huge.
"I went to Australia and beat Leapai, I came home to beat Thompson who had just beat Odlanier Solis, another guy that had been hyped. People said that Thompson would beat me, I gave him a clinic. Ortiz is dangerous, but a punch at heavyweight can change everything. He doesn't know what it's like to sit on the shelf and wait for a fight, get messed around by opponents. I am just as hungry as he is.
"I can only blame myself for lost opportunities. Inconsistency has cost me. Fans, managers and promoters have to trust your performances in this sport and I haven't been consistent enough – but that has nothing to do with my ability.
"Leapai and Thompson are top ten guys and now I have Ortiz which is must-win for me. You cannot afford today to put two wins together then lose. People's attention spans these days are so small. You have to keep winning and show people that you are a winner, that's what I have to do.
"I have boxed a few southpaws but none of Ortiz's quality. Luis is the best of all the southpaws but I don't see perfection. I don't look at the invincibility that the casual fans see and if I can take advantage of those holes in his game he's going to taste his first loss.
"Everyone he's beat has been on a plate for him, but against me, he's going to have to work to get his shots off, I'm no dummy in the ring, I'm very intelligent, and I believe I will be victorious (Saturday)."