As with the original 'Magnificent Seven', only two of the participants from Frank Warren's recession-busting boxing cash-in walked off into the sunset. The two fighters in question being Nathan Cleverly and Derek Chisora, with James DeGale left holding fort (until he feels like challenging himself). Although entertaining, this was a night of few upsets, the only one being the knockout loss of Enzo 'Big Mac' Maccarineli to Alex Frenkel.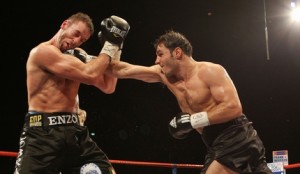 To be honest after reading recent quotes from Enzo, I thought, that he had turned it all around but the same mistakes were waiting to be exposed as on the night David Haye stripped away his WBO belt, and with it the Welsh man's confidence. If this was to be Enzo's farewell from the sport then its true to say that he went out fighting, swinging wildly and missing before being caught flush with a heavy left hand, from which he never recovered.
Earlier in the evening, the ever confident, James 'Chunky' DeGale stopped Carl Dilks in the first round of their contest. Althought DeGale is confident in his own ability, many of the boxing public remain skeptical about his ability as he has still to challenge himself in the professional ranks. DeGale seems too interested in performing his over-rehearsed celebration than what is going on in the ring. Hopefully, with Frank Warren announcing after the fight that they are looking to match him against George Groves in Decemeber, we should know who is the going to make the step-up from the British Super-Middleweight division to the World stage.
In the Light-Heavy Weight Divison, Nathan Cleverly proved he was no push-over with an impressive stoppage win over the undefeated, Iraq-born, Armenian-raised-German Karo Murat. Here is a fighter with brains, and a maths degree to prove it, but who chooses not to use them and instead entertains his fans with his all action attitude. Comparisons to Calzaghe are inevitable, but only time will tell if Nathan is clever enough to re-produce the world title winning performances of his compatriot.
Moving up again to the Heavyweights, there was a grudge match between Derek Chisora and Sam Sexton. Chisora won the first fight with a knockout in the sixth round but it took him an extra three rounds this time around, with a nineth round stoppage for 'Del Boy'. This victory added the Commonwealth title to his British belt and he'll surely be looking to move up in class with his next fight, either going for the European title or challenging Audley Harrison, after he loses to David Haye.
In the main event of the evening Matthew Macklin failed to shine against, the awkward, Shalva Jomardashvili in re-claiming his European Middleweight belt. Macklin still claims that he'll shine against the best the middleweight division has to offer, stating that he would be better suited against the likes of Sebastien Sylvester, Sergio Martinez or Kelly Pavlik. Time will tell whether Frank Warren can bring one of the big names of the middleweight division to Britain.
'Magnificent Seven' roundup:
James DeGale TKO-1 Carl Dilks
Lukas Konecny TKO-6 Matthew Hall
Nathan Cleverly TKO-10 Karo Murat
Kell Brook TKO-5 Michael Jennings
Derek Chisora TKO-9 Sam Sexton
Alexander Frenkel KO-7 Enzo Maccarinelli
Matthew Macklin TKO-6 Shalva Jomardashvili