There were a lot of fireworks this weekend. We had some good action on both sides of the pond. Unfortunately, the big fight in the U.S. this week was a bit of a dud—as Shane Mosley and Sergio Mora fought to a draw at Staples Center in Los Angeles. It was a tough fight to score, though Mosley's aggression, particularly in the first half of the fight, seemed to earn him an edge. In any event, the result of the bout seems secondary in light of the crystallization of the fact that Sugar Shane is probably finished as a top-flight fighter.
And why shouldn't he be? The guy is pushing 40, with a long amateur and pro background. There's a lot of guys in the Hall of Fame who didn't last as long as Shane did as a top fighter. Just this year, he was Mayweather's dancing partner in a megafight—a fight that was big because of the quality and threat Mosley represented. He might be the worst of the three "Sugars," but he stayed relevant as a top fighter at an older age than Robinson and Leonard.
With a better-suited opponent, Mosley could still have some good moments in the ring, but he has undoubtedly reached the point of diminishing returns. I'd like to see him call it a day. Every boxer gets to that point in their career where they are in a danger zone. A lot better fighters than Mosley have succumbed to it. With the competition at 147-154, Mosley risks a lot by continuing. I hate to say it, but he already seems a little diminished, as if the punches have started adding up. This would be a well-timed exit. But it's never that simple, is it?
The undercard stood in direct contrast to the main event, with a slew of bone-crushing knockouts.
Daniel "Ponce" De Leon showed he is still a force with a big KO over disappointing Antonio Escalante. A big right toppled Escalante and De Leon, whose career stalled out for a while, seems back on track.
Victor Ortiz knocked out faded ex-titlist Vivian Harris, scoring three knockdowns before the end came in the third. Ortiz deserves credit for rebuilding after the Maidana loss. Many fans, whether rightfully or not, will need to see him pass a gut-check before signing back on.
Saul Alvarez, 20, knocked out former champion Carlos Baldomir in the 6th round, after dishing out a gradual beating on his durable opponent. With one stoppage loss in 17 years, Baldomir was a heavy favorite to last the distance, but Alvarez continues to improve dramatically. He seems ready for the best right now. His management will wisely continue to slowly ramp up the quality of his opponents, but expect to see him in something big within 12 months.
In England…
Nice card in Birmingham. The promotional outfits in the U.S. should take notice, as this card was a showcase of young talent. After watching Nathan Cleverly dissect and stop talented and undefeated Karo Murat, I finally feel justified in saying this kid is one helluva fighter. After starting out 13-0 (3 KOs), he has scored 7 straight knockouts, while fighting increasingly tougher opponents. He is exceptionally smart and sharp with his shots. I might be nuts, but I say Cleverly gives anyone at 175 a very difficult evening. We'll likely find out soon.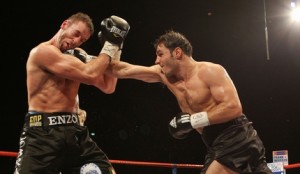 As if the world needs another top German cruiserweight, Alexander Frenkel blasted out poor Enzo Maccarinelli in the 7th round as part of the same card. A left hook spilled Enzo dramatically. Maybe it should have been stopped at this point, considering some of recent hard spills Enzo has endured in the past few years. No such luck. Frenkel's follow-up assault was reminiscent of George Foreman's KO over Gerry Cooney—with Maccarinelli violently crashing to the canvas out cold.
Also on the card, top prospect, 24-year old Kell Brook moved to 21-0 by stopping Michael Jennings in the 5th round.
James DeGale, 2008 Olympic gold medallist, moved to 7-0 with another impressive stoppage. He will likely need to be dealt with in the future.