Middleweight and Super Middleweight Boxing In the Midst Of A Changing Of The Guard:
For several years the picture in boxing's middleweight classes — the 160 and 168 lbs divisions — has been very stable, with a well-defined set of champs and top contenders. In retrospect, that stability began to unravel in May 2014, when Sergio Martinez's four-year reign as World Middleweight Champion came to an end at the hands of Miguel Cotto.
That a shift might be underway was disguised by the fact that Martinez's overthrow was at the hands of established welterweight veteran Cotto. Yet in the last few weeks, a series of major career choices, fight matchmaking, and retirements has clearly signaled that the old guard established by Martinez and the Super Six Tournament is in transition.
Mikkel Kessler Hangs Up The Gloves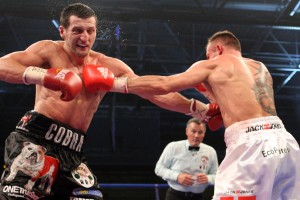 Also known as the Viking Warrior and the Great Dane, Mikkel Kessler announced this weekend that he had officially retired, aged 35. The Dane left the sport as a four-time world titlist with a record of 46-3, with those losses coming to Joe Calzaghe, Carl Froch (splitting a 1-1 series with him) and Andre Ward.
Kessler also represented the bridge between the era of Joe Calzaghe's long and undefeated reign as a super middleweight champion and the current Super Six-dominated era, while Calzaghe himself was the bridge to the Chris Eubank-Nigel Benn-James Toney-Roy Jones period in the division.
Rumors fostered by James DeGale indicated that Kessler and DeGale were in negotiations, but now DeGale is in open talks with Andre Dirrell for a fight over the IBF belt vacated by Carl Froch. If I had to guess, the straw that broke the camel's back and prompted Kessler to finally call it quits, after more than a year spent recovering from injuries, was the failure to entice DeGale into a big fight.
Froch vs. Chavez Jr.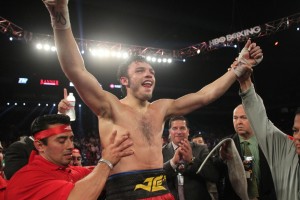 When Froch made the aforementioned choice to vacate his IBF belt, he was making a clear statement that he wanted a fight with Julio Cesar Chavez, Jr. and would brook no compromises to get it. That in and of itself suggests that Froch, age 37, is looking for a big win to serve as a platform for his own retirement, and is completely in line with Froch's own statements that he would probably call it a day after beating Chavez. Froch vs. Chavez could be the largest super middleweight bout of 2015, and whether Froch wins or loses, it represents a potential changing of the guard.
Where's Andre Ward?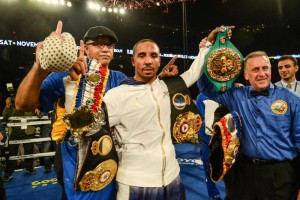 As for Ward, he's now with Roc Nation sports, but his last several years has been spent either injured, or in promotional hot water, leaving him largely and sadly inactive. While Ward was of course part of the Super Six and its victor, he entered the tournament as an unproven young lion rather than an established contender, and is only 31 years old.
He's in need of a big fight in a hurry, and his absence has allowed some of the aforementioned younger fighters to emerge more prominently in the division. Will Ward even be at his best after such a lengthy hiatus in the midst of his prime?
Jermain Taylor Goes To Jail, So N'Dam Meets Sturm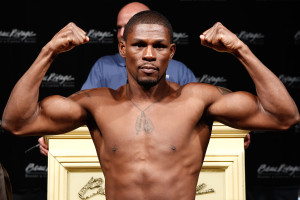 The sad meltdown of Jermain Taylor has permanently removed him from the middleweight picture, since he will very likely spend the next several years in prison. In stripping him of his title, the IBF has ordered a match between fringe contender Hassan N'Dam and declining ex-titlist Felix Sturm.
A longtime beltholder at 160 lbs, Sturm has had a thoroughly mixed record over the last four years, with many draws and wins being of the stinky, hometown and German variety. If this fight takes place anywhere outside of Germany, I give N'Dam good odds of banishing Sturm from title fight contention hereafter.
Cotto Is 160's Only Viable Old Guy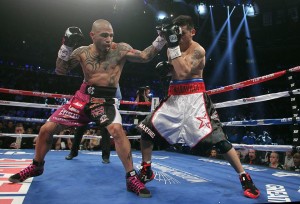 Billy Joe Saunders recently stepped aside, allowing Andy Lee to defend his WBO strap against Peter Quillin. What makes that so interesting from a changing of the guard perspective is that Saunders is 25, Lee 30, and Quillin 31.
That highlights how the only old guy at the top ranks of the 160 lbs division is its World Champion, Miguel Cotto. True, the Puerto Rican is only 34 years old, but he has serious boxing miles on his body and has been around for a very long time. Cotto won his first title at 140 lbs and 10 1/2 years ago, and fought his first "name" opponent more than 12 years ago.
His chief rival, Gennady Golovkin, is 32. The guy Golovkin is fighting next, Martin Murray, is 32. Most of the other guys in the middleweight fit that profile — fresh boxers in their early 30s and coming into their primes. This is a stark contrast with Cotto, who has the question mark of "damaged goods?" constantly dangling from his neck prior to his dismantling of the aged and fragile Sergio Martinez.
Kessler, Froch, Martinez, Cotto, Sturm. All these guys have been big names among fight fans for years. By the end of 2015, all of them could be in retirement or dismissed to the status of aging former champion serving as a "name" stepping stone or gatekeeper opponent.