Mikkel Kessler, "The Viking Warrior", officially announced his retirement from the sport last week. Kessler had been inactive since losing his rematch against Carl Froch nearly two years, in May 2013. He finishes with a career record of 46-3, with 35 KOs.
Kessler's best win will undoubtedly remain his decision win over Froch in their first meeting, in April 2010. In a back and forth affair, Kessler pulled out a tight victory in the midst of the Super Six Tournament. While Froch always questioned the scoring of that fight, to most observers there was no controversy and The Viking Warrior had done enough to justifiably get the nod.
Other notable wins include Markus Beyer, Anthony Mundine, Librado Andrade, Allan Green, and Brian Magee.
All three of his losses came against true elites. That's just as telling to his legacy as his wins are. You weren't going to beat Kessler unless you were absolutely at the pinnacle of the prizefighting profession.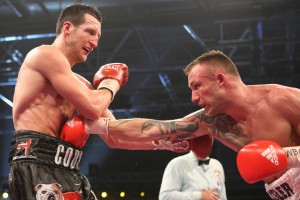 His first career loss came in a huge showdown against Joe Calzaghe in November 2007. It was a close fight, but Calzaghe had clearly triumphed, earning perhaps the biggest victory of his own career in the process. He lost to Andre Ward in the Super Six, a fight which served as Ward's coming out performance, and he split his two-fight series with Froch.
Kessler was a fan favorite for many, and he always enjoyed entertaining his fans whenever he could, and he'll be linked to Froch for years to come. While some may only remember the most recent image, a more one-sided Froch victory in the rematch, you should never forget when these two warriors stood toe to toe and slugged it out in their first encounter, and The Viking Warrior's hand was raised.