-Saturday, November 13, 2010, Cowboys Stadium in Arlington, Texas, for the vacant WBC Light Middleweight Title: Pacquiao vs. Margarito-
Boxing megastar Manny Pacquiao goes for a title in his 8th weight class when he takes on former Welterweight titlist Antonio Margarito on November 13 at Cowboys Stadium for the vacant WBC Light Middleweight Title. Once again, Pacquiao faces a bigger man as he continues his assault in yet another division. Antonio Margarito, the once-celebrated warrior, looks for redemption after a loaded-gloves controversy and knockout loss to Shane Mosley wreaked havoc on his reputation.
Pacquiao vs. Margarito Preview: Fighting Styles and Equipment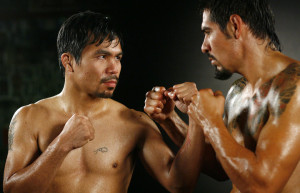 Pacquiao: A shifty assassin with dynamite in both fists, the Filipino southpaw is a sharpshooter of the highest order. His straight left is a concussive weapon, while his right hand wallops do a lot of damage as well. Pacman has improved his feet, control of distance and overall command of ring geometry and geography. At 5'6" with a 67 inch reach, he is extremely small for a welterweight, but especially for a junior middleweight—even if the bout is at a catchweight of 150. Amazingly he's still just 31 years old, despite a championship resume dating back to 1998.
Margarito: A slugger who takes punishment, only to unleash it back on his opponent with greater menace. A rangy puncher, Margarito goes to the body well and throws a lot of punches. His left hook, both upstairs and to the body, is a great weapon. When at his best, he's a passionate brawler who hurls himself at the task at hand with total passion. Despite the Mosley knockout, he has shown himself to be a durable campaigner. At 5'11" with a 73 inch reach, he will have a big size advantage over Pacquiao. At 32 years old, Margarito is 9 months older than Manny.

—> Buy Pacquiao vs. Margarito Tickets <—
Recent Form
Pacquiao: Even his critics struggle to find fault in his recent run. His loss to Morales (a setback he twice avenged) is his only since 1999. Since moving up and beating lightweight titlist David Diaz in 2008, Pacquiao has shown improved form while beating the best at 140 and 147 pounds. His right hand has become better and he's now more difficult to hit. For a 4-division champion to have a mid-career renaissance is highly unusual and has put Pacquiao in rarefied air. He actually stepped up his game significantly during a time when most top fighters flatten out in their careers.
Margarito: Antonio was moving along quite well before the Mosley fight. His stirring win over Miguel Cotto had Margarito at the top of the sport. No one could have predicted the disaster that became the Shane Mosley encounter, however. Has a fighter ever had more fallout from one fight? Not only did he get shellacked by the 4-1 underdog, but the loaded gloves controversy that followed served to put his entire career under scrutiny. He didn't look great in his comeback fight in Mexico either—his only win in the past 2+ years.
Pacquiao vs. Margarito Preview: Comparing Resumes
Pacquiao: Has a pro record of 51-3-2 (38 KOs). One of the best records of the modern era. Beat Chatchai Sasakul for his first title. Sasakul was linear Flyweight Champion who had dethroned flyweight-of-the-nineties Yuri Arbachakov. Beat "the man" at 122 in classy Lehlo Ledwaba. Holds two wins each over Marco Antonio Barrera and Erik Morales—two of the signature lower-weight fighters of the past quarter-century. Holds a draw and decision win over future Hall of Famer Juan Manuel Marquez. Effectively ended the careers of Oscar De La Hoya and Ricky Hatton. Welterweight credentials bolstered by wins over top guys Miguel Cotto and Joshua Clottey. Has beaten 16 fighters with world title resumes.
Margarito: Has a pro record of 38-6 (27 KOs). A pro since he was 15, Margarito has almost 17 years of experience under his belt. Like Pacquiao, took a few knocks early, losing 3 fights before he was out of his teens. Began making strides in 1999, beating fellow prospect Danny Perez. Scored a 2000 TKO win over current Middleweight Champion Sergio Martinez. Strangely, was winless in 2 bouts with Daniel Santos, a one-round No Contest and a technical decision loss, both ended by cuts. Holds two impressive knockouts over Kermit Cintron, a decision win over Clottey, and a passionately fought TKO over Miguel Cotto. Losses to Paul Williams and Shane Mosley hurt his momentum. The loaded gloves controversy threatened to end his career.
Pacquiao vs. Margarito: Pre-fight Questions
Is Margarito a worthy opponent for the Filipino juggernaut?
Yes and no. Based on his recent body of work, combined with the shame of using sheet-rock accessories in his gloves, it is a stretch to justify him as an opponent. Good thing for Margarito that Bob Arum has a soft spot for him, in addition to an optimistic view in the area of personal redemption. On the basis of sheer merit and ability, Margarito could prove to be one of Manny's toughest foes as of late.
What does Margarito have left?
It wouldn't take a tremendous leap of faith to write off Margarito's recent failures. Against Paul Williams, he overlooked his foe and looked to be the superior fighting force in the second half of the fight, losing a close decision. Against Mosley, his mental state was heavily compromised by the pre-fight drama, which probably contributed to his flat performance. Assuming his success wasn't based on wearing loaded gloves all these years, Margarito was a heck of a fighter. What if the guy from the Cotto fight shows up at Cowboys Stadium? If you throw the Mosley fight and his comeback fight in May out, what reason do we have to believe that Margarito is a spent force? Facing a one-shot opportunity to not only become a top fighter once again, but to lend validity to his considerable prior work, Margarito should be in a highly motivated state of mind.
Is Manny pushing the limit?
Pacquiao might be able to beat all welterweights, but is he really equipped to handle punishment from big bangers like Cotto, Clottey, and now Margarito without ill affects? At some point, will his small frame betray him? When you see how battered he was following the Cotto fight, when he took only a modest amount of punishment, it was a little troubling. He's a small guy and perhaps we're overlooking the ring-wear that can result from him fighting big welterweights time and again during one of the division's golden eras. Aren't we expecting too much for him to emerge from this recent run unscathed?
Pacquiao vs. Margarito Prediction
It's funny how boxing works. Everyone has predicted that Manny would run into problems following his fight with David Diaz at lightweight. However, he cruised through against De La Hoya, Hatton, Cotto, and Clottey. During his entire ascent through different weight classes, his demise has been anticipated and he barely had a hiccup. Now we're at a point when everyone is expecting sheer dominance—the sure sign that a massive struggle is imminent.
I suspect the size, grit, and sometimes-animalistic style of Margarito will trouble Pacquiao. If Margarito is capable of duplicating his rabid dog performance against Cotto, this could be a classic, with a possible sequel to follow. I don't think he can do it. The loaded gloves scandal, coupled with a long layoff have deprived Margarito of that small edge he depends on to thrive.
The difference in speed and overall sharpness will be telling, as Pacquiao is able to dictate the starting point of most exchanges. I expect Manny to depend on his improved niftiness and footwork to prevent Margarito from establishing momentum. A naturally hard hitter, Pacquiao will depend on his hand speed to dominate the early going.
When Margarito picks up steam, he will achieve some success. There will be some anxious moments for Pacquiao, as Margarito reaches him with some shots. Manny has always answered his gut-checks and he will do the same in this fight. Pacman will grit his teeth and dig in, rattling Margarito with some power shots. An 11th-round knockdown will punctuate his late-rounds dominance, as he cruises to a wide unanimous decision, somewhere in the 117-110 area.
Pacquiao vs. Margarito Prediction: Manny Pacquiao by unanimous decision.