-A Weak Main Event and a Misleading Undercard Lead to a Waste of $44.95-

On September 18, 2010 HBO will be distributing a pay-per-view broadcast, with the main event of course Sugar Shane Mosley (46-6, 39KOs) vs. Sergio Mora (22-1, 6KOs).  Fight fans will be asked to dish over $44.95 for this relatively meaningless junior middleweight bout, featuring an undercard that is deep with names, but lacking a sorely needed premier matchup considering the lackluster main event.  The televised undercard is as follows: Saul Alvarez (33-0, 25KOs) vs. Carlos Baldomir (45-12, 14KOs), Victor Ortiz (27-2, 21KOs) vs. Vivian Harris (29-4-1, 19KOs), and Daniel Ponce de Leon (39-2, 32KOs) vs. Antonio Escalante (24-2, 15KOs).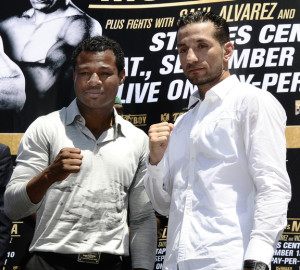 The main event of most HBO PPV cards typically includes a current superstar in boxing, such as Manny Pacquiao or Floyd Mayweather, taking on a worthy challenger, although the standards have certainly been skewed over the past several years.  Shane Mosley is without a doubt a future Hall of Fame boxer, but is past his prime and coming off a very one-sided loss at the hands of Floyd Mayweather.  Also, Shane Mosley's last fight before that, a much more intriguing matchup against Antonio Margarito, was made available for free on HBO World Championship Boxing.  His opponent, Sergio Mora, who is best known for winning NBC's reality show The Contender, was last seen on the undercard of the rematch between Roy Jones Jr. and Bernard Hopkins, defeating journeyman Calvin Green.  This does not equate to a fight that fans are craving to watch.
When it was announced that the rematch between Juan Manuel Marquez and Juan Diaz would be on HBO PPV, I must admit I was a little surprised as both men were coming off of losses, but Golden Boy lined up a great undercard (on paper at least)to assure fans they would be getting their money's worth.
This time however, Golden Boy has put forth a very weak undercard.  Saul Alvarez is an exciting young prospect, but is being matched soft against an over the hill Carlos Baldomir.  Boxing fans should not get their hopes up for Baldomir to pull off another improbable upset like he did against Zab Judah in 2006, as the Argentinean fighter has lost three of his last five.  The card will also showcase Victor Ortiz, who has been matched against unaccomplished or shot fighters ever since quitting against Marcos Maidana last year.  His opponent will be Vivian Harris, who has not won a fight since 2008. Also on the undercard will be a bout between Daniel Ponce de Leon and Antonio Escalante, which will serve as a WBO featherweight eliminator.  I have no major qualms about this fight, other than it is not worth $44.95 alone.
Richard Schaefer, CEO of Golden Boy Promotions, asked fans to purchase the Juan Manuel Marquez vs. Juan Diaz card if they wanted to continue to receive great undercards.  I believe it is time for fans to take a stand and not purchase the Shane Mosley vs. Sergio Mora card, as a measure to say that the combination of weak main events and weak undercards are not desired.