The winner of the Manny Pacquiao vs. Juan Manuel Marquez 4 fight this December will receive a special "champion of the decade" title or award from the WBO. Why there's a need for this, or why the fighters even agreed to it, is beyond me.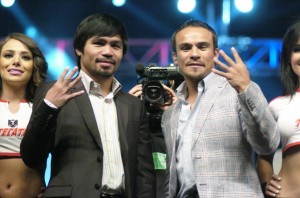 Of course, sorting through the messy alphabet soup of sanctioning bodies, and distinguishing between champions, titleholders and the rest, is as convoluted as it gets in boxing.  It's also a major source of frustration for fans, and a turn-off for would be fans who simply can't make sense of it all.
The WBC has their shiny new "Diamond Belts", while the WBA regularly has three "champions" in one division – a Super champion, a Regular champion, and an Interim champion.
Well, the WBO apparently didn't want to be left out in the cold any longer. More likely though, they didn't want to miss out on their chance to collect a 3% sanctioning fee from a fight that will rake in tens of millions of dollars.
But just because the WBO wanted to crown a "Champion of the Decade" in the fight, why would team Pacquiao and team Marquez bother? They realize it holds no true value for them or their standing in the sport, and they have to fork over a hefty chunk of change for the privilege.
It's a ridiculous idea, and it's just as strange that the fighters took the bait.
Comments
comments