Manny Distract-iao: Divorce Papers Lead to Sleepwalk Performance Against Juan Manuel Marquez?
News broke late last week indicating that it was the culmination of myriad distractions that led to a less-than-elite performance by Manny Pacquiao last November against Juan Manuel Marquez, and not perhaps what was perceived as diminished skills.  According to trainer Freddie Roach, the demands of a lifestyle such as the one Manny leads—which included a cockfighting farm, along with casino and nightclub ownership—were contributors in a perfect storm of distraction that caused the usually unflappable focus of "Pac Man" to veer astray.
Still, the biggest bombshell that Roach dropped was of potential marital discord between Pacquiao and his wife Jinkee due in part to the demands placed upon Manny which included, as per Roach, "girls and everything that goes with it."  Allegedly, the two have reconciled due to Manny changing his ways and engaging in daily Bible study together, months removed from the champ being served with divorce papers just prior to the bout with Marquez.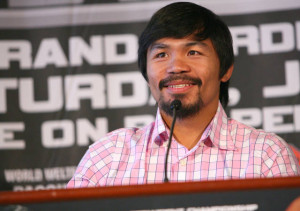 Both Roach and Manny insist that the fighter is in better spirits and a sounder frame of mind with Timothy Bradley looming on the horizon.  By eliminating the outside influences and distractions—including, oddly, an excessive devotion to playing basketball—Roach assured the media that Pacquiao is back to his old self and will be ready to hand Bradley the first loss of his professional career.  While there's no real reason to doubt both Roach and Pacquiao, the true assessment of where Manny is at this point in his career can only be made on fight night, June 9th.
If a focused Pacquiao puts Bradley on the canvas—as is Roach's game plan—it will be hard to claim that the distractions weren't what caused the hiccup in the Marquez bout.  Anything less, though, may bolster the arguments of those who believe that today's Manny isn't the same one that rose to superstardom in recent years.
What do you think?  Admittedly, the distractions identified by both Roach and Pacquiao are huge and would drive lesser men to the brink of insanity, let alone allow them to properly focus on their profession.  At this level of greatness, is Manny showing the trappings of many an iconic figure in that the biggest potential threat to his dominance is really just himself?
Further, why would the Pacquiao camp choose now—slightly under four weeks until opening bell—to address these issues?  Does the fact that a Floyd Mayweather engagement for 2012 appears to be off the table play any role in this?  What already seemed to be an exciting fight this June has now taken on unexpected layers of nuance that have made Pacquiao-Bradley a must-see bout for all boxing fans.
Comments
comments