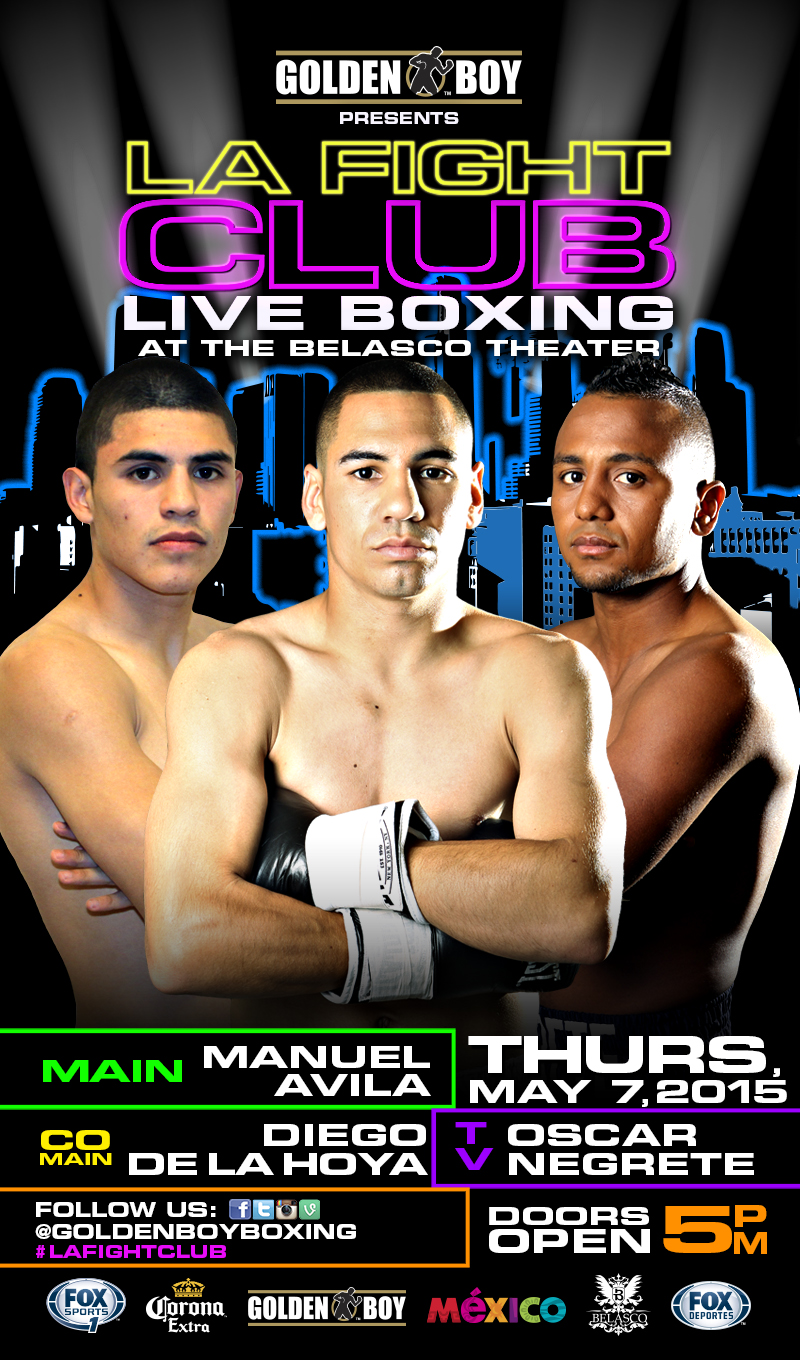 The May 7 edition of Golden Boy Promotions' successful new series LA FIGHT CLUB will feature the undefeated Manuel "Tino" Avila (16-0, 7 KOs)from Fairfield, California facing off against Rolly Lunas (34-9-1, 20 KOs) in a 10-round super bantamweight bout at The Belasco Theater and televised live on FOX Sports 1 and FOX Deportes.
In the co-main event Mexicali, Mexico's Diego De La Hoya (9-0, 6 KOs) will compete in an eight-round featherweight bout. Opening up the telecast, Los Angeles native, Oscar Negrete (8-0, 3KOs) will get in the ring for a six-round super bantamweight bout and Los Angeles fan favorite Nick Arce will be featured in a four round featherweight bout hoping to make air time. Also, Los Angeles rising stars, lightweight Jesus Delgado (4-0-1, 1 KO) and bantamweight newcomer Miguel Alcantara who will make his professional debut, will be featured in separate four-round fights.
"LA FIGHT CLUB has provento be a success, the response from fans has been overwhelming, and the showcontinues with an exciting match up between the undefeated Manuel "Tino" Avila and Rolly Lunas at The Belasco Theater on May 7," said Golden Boy Promotions Founder and President Oscar De La Hoya.
"I am excited to be featured on LA FIGHT CLUB on May 7," said Manuel Avila. "Fighting Lunas is great opportunity for me, he is an experienced fighter and I know he will come prepared. I will be ready for him come fight night and show all the fans that I am ready to fight for a title."
The undefeated Manuel "Tino" Avila has taken the local boxing scene by storm since his professional debut at Fight Night Club at Club Nokia in Los Angeles in 2010. Avila's last bout in Los Angeles was decision win against David Reyes on the undercard for Bernard Hopkins vs. Chad Dawson at Staples Center in October 2011. 2014 was a busy year for Avila, as he took on and defeated Enrique Quevedo, David De La Mora, and Sergio Frias. In his first bout of 2015, the Fairfield, Calif. native will face the toughest fighter of his career in Rolly Lunas, an experienced fighter ready to test him on May 7.
Having turned professional at the young age of 16, Rolly Lunas is a seasoned fighter with more than 40 fights under his belt. A former winner and defender for the OPBF Bantamweight title and the PABA Flyweight title, the tough fighter moved to San Diego in 2013 in search of the American Dream. Lunas has put everything on the line, even leaving his two daughters behind in the care of family in the Philippines, to fight and provide for his family. His U.S. professional debut was a hard fight against Chris Avalos in November 13. Now the experienced fighter is hoping to impress fans in his second U.S. fight against Avila, a challenge that will put him to the ultimate test in the ring on May 7.
Diego De La Hoya has kept fans thrilled with his impressive skills in the ring since making his professional debut in 2013. Fighting with power, the Mexicali, Mexico native has stayed busy in 2015 with an impressive victory over title contender Manuel Roman at Fantasy Springs Resort Casino in February. The undefeated fighter is looking to excite fans once again and keep his undefeated status when he makes his LA FIGHT CLUB debut at The Belasco Theater.
Jesus Delgado made a stand-out appearance at premiere event of LA FIGHT CLUB on March 6, dominating Rocco Espinozain all four-rounds, releasing relentless powerful punches to win the bout by unanimous decision. Since his professional debut in January 2014, Delgado has stayed local, building up his name and reputation on the Southern California boxing circuit and will continue this quest on May 7.
Undefeated super bantamweight star Oscar Negrete of Los Angeles, will get in the ring eager to continue his winning streak and maintain his undefeated status. 2014 was a good year for Negrete as he secured wins over Carlos Medina, Gabriel Braxton and Salvador Perez. Negrete has stayed active thus far in 2015 winning via decision against Fernando Fuentes at Fantasy Springs Resort Casino in February.
Fighting out of the Westside Boxing Club in Los Angeles, 18-year-old featherweight Nick Arce is a former amateur standout who entered the professional boxing world in style in November of 2014 with a fourth round knockout of Adalbert Valenzuela. Since then the Los Angeles favorite has fought Lyonell Kelly on Feb. 27 winning by second round knockout.
18-year old, Miguel Alcantara of East Los Angeles will be making his professional debut at The Belasco Theater. With an amateur record of 68-12, the Desert Showdown and Silver Gloves winner is ready to give fan a great show on May 7.