November 3 sees cruiserweight action return to Germany as fan favorite Marco Huck defends his title against veteran Firat Aslan. The fight is noteworthy mostly because it is Huck's 10th defense of his WBO belt, so if he wins he achieves the WBO's "super champion" designation.
Firat Arslan (32-5-2, 21 KOs)
5'11" tall, southpaw, 42 years old
German
Former WBA Cruiserweight Champion
Arslan is a fixture on the Continental European scene, and for several years has stood squarely on the line separating fringe contenders from mere journeymen. He is a reasonably tough character, with a come-forward and stay busy southpaw style. He won the WBA strap from a very old Virgil Hill in November 2007, and defended it once in 2008 against Darnell "Ding-a-Ling Man" Wilson, a fan favorite club fighter from the DC area, before losing it to Guillermo Jones.
Jones, once upon a time a freakishly tall junior middleweight contender, had grown into a solid cruiser, and took Arslan to the trenches. In a brutal slugfest, Jones ultimately got his height and reach into action, and used sharp potshots to pummel a game Arslan into a late-round stoppage. Arslan was stopped again in his very next fight, against fringe contender Steve Helenius. Despite the two stoppages and his age, Arslan remains a live opponent, having fought Alexander Alekseev to a standstill and a draw in his last fight.
Marco Huck (34-2-1, 25 KOs)
6'1 1/2″ tall, 73″ reach, 27 years old
Serbian living in Germany
WBO Cruiserweight Champion, former European Cruiserweight Champion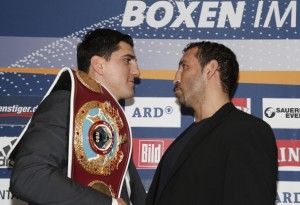 Huck is a durable, strong swarmer. Although his boxing skills are somewhat limited, he has grown from a typically robotic Continental European into a loose, fluid fighter who easily lets his punches go. His aggression, physical prowess, high work rate, and refusal to be intimidated have carried him a long way.
Since losing by TKO12 to Steve Cunningham, he has built up a solid record at 200 lbs, culminating in his challenge of Alexander Povetkin's heavyweight title earlier this year. In a testament to Huck's abilities, the much bigger Povetkin was hard pressed to hold back the Serbo-German's aggression and eek out a Majority Decision.
Huck vs. Arslan Analysis
Arslan is tailor-made for Huck. The veteran German likes to come in and mix it up, but has been ground down and stopped in both of his fights with lower-tier, world class fighters. The only thing Arslan has in his arsenal that might even potentially hang up Huck is his southpaw stance, but Denis Lebedev was a southpaw and that didn't faze Huck.
Arslan's style means he won't be easy to find, and he can't last in a contest of attrition with Huck. The fists will fly and the action will be hot while it lasts, but Arslan is going to crumple and fold.
Prediction: Marco Huck TKO6 Firat Arslan