Marcel Cerdan (111-4-0, 65 KOs), European middleweight champ, faced world champion Tony Zale for the title on September 21, 1948 (Ring Magazine's Fight of the Year).  To the amazement of oddsmakers, boxing analysts, and fans, the Casablanca Clouter took the title from the Man of Steel, who couldn't come out for the 12th.
After knocking out Dick Turpin and Lucien Krawczyk in non-title bouts, Cerdan faced Jake LaMotta (83-19-4, 30 KOs) for the belt at Detroit's Briggs Stadium on June 16, 1949.  As the result of a shove more than a blow, the champ and his challenger tumbled to the mat.  The Raging Bull got up, apparently no worse for wear.  The Algerian-born Frenchman wasn't nearly so lucky, dislocating his shoulder and rendering the arm useless.
I know from personal experience the agony of a dislocated shoulder (a pain dreamed up by the Marquis de Sade himself), and it's nothing short of jaw-dropping that Cerdan continued the fight for another eight rounds — one-armed and in terrible pain.  And not only fought, but gave LaMotta a hard time.  But sheer guts can only take one so far, and the Clouter couldn't come out for the 10th.  LaMotta was awarded a win by TKO and the Middleweight Championship of the World.
A rematch was scheduled, but Cerdan was killed when the plane flying him from Casablanca to the States crashed in the Azores on October 28, 1949.  He was 33. But…what if the plane hadn't crashed?  What would have happened in LaMotta-Cerdan II?
[Also See: Top 10 Middleweights of All-Time – Where do LaMotta and Cerdan rank?]
The Combatants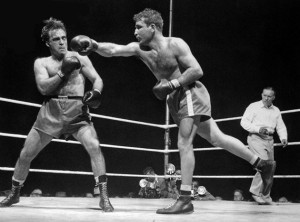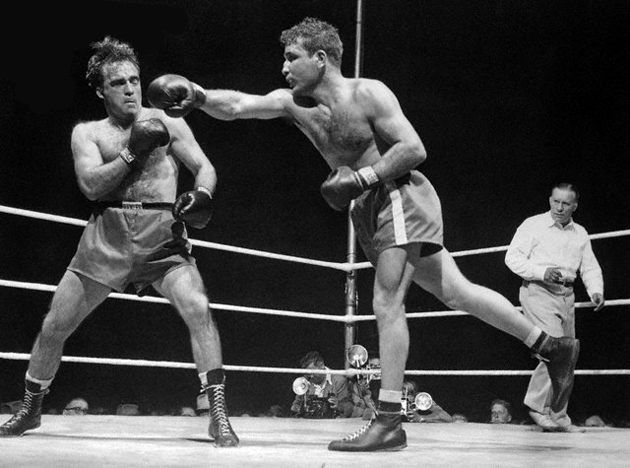 LaMotta had a lot going for him as a fighter.  He was a brawler, sure, but also clever.  Patient, taking punches and absorbing pain, he would wait for just the right moment to release his inner bull, delivering pinpoint-accurate blows on his unsuspecting opponent.
Cerdan, the middleweight division's answer to Rocky Marciano, was a swarmer.  Aggressive from the opening bell, he knew just what punches, singly and in combination, to deliver.  And they landed with devastating consequence.  An opponent's defense, however able, meant little to him.  His hitting was almost non-stop, regardless of where he was in the ring or how he was positioned in respect to his challenger.  Where LaMotta pulled surprises, Cerdan simply overwhelmed.
LaMotta vs. Cerdan II: The War
There's the opening bell.  Both fighters take it to the center of the ring, Cerdan throwing punches in fluid motion.  LaMotta, slipping, ducking, dodging, but taking plenty.  He doesn't care about the pain.  He stands, but he doesn't deliver…not yet.
Round two is a repeat performance.  Cerdan grows in confidence.  The American is tough, all right.  He can take it, but he isn't dishing it out.  Maybe he can't.  In the third, Cerdan drives LaMotta toward the ropes, planning to deliver the kind of massive uppercut that finished Zale in the 11th round of their championship bout.  LaMotta is pliant, almost willing.  It's easy…too easy.  The realization dawns a split second too late, as the Bronx Bull unloads lefts and rights at the taken-by-surprise Frenchman.  LaMotta has pretty much napped since the fight began.  He's fresh…and his blows sting.
Cerdan underestimated and misjudged the champ.  A bad mistake, but one he won't repeat.  At the fourth bell, the Clouter appears to follow his usual angry-bees approach to devastation and victory.  But Cerdan's timing seems off.  It's almost imperceptible.  And yet…off.  He's getting tired, thinks LaMotta, he peaked too soon.  Hell, Sister Regina of the Child Jesus could throw a better left.  And, once more, the champ unleashes a barrage.  But…what's this?  Some connect, sure, but most are picked off.  And all are answered with a vengeance.  The champ's eyes are blackened, dark as a coal miner's.  The round ends with LaMotta puzzling over just what was going wrong, knowing only that he shouldn't have taken the tempting bait his opponent had so cleverly dangled before him.
Rounds five and six are center-of-the-ring slugfests, each fighter giving as good as he gets, hitting, dancing away, coming back to give and get some more, both avoiding the killing zone that are the ropes and corners.  But in the seventh Cerdan does indeed punch LaMotta toward the ropes.  The champ fights back, connecting with a solid right.  But the push is unstoppable.  And LaMotta isn't faking, not this time, and Cerdan knows it.  A left rocks the Clouter, but he responds with one of his own.  LaMotta gives up his attempts to counter.  He covers up, and Cerdan pounds him like a rug.
LaMotta surprises Cerdan in the eighth, taking on the role of aggressor.  He uses his fists the way a bull hooks with its horns.  But the former champ rallies and counters.  An overhand right smashes into LaMotta's nose.  Tottering, he falls on his face.  He gets up slowly, awkwardly, like a marionette guided by an inept puppeteer.  The referee looks at his eyes.  They're as clear as ham in aspic.  The ref waves his arms, signaling the end of the fight.
Marcel Cerdan revels in his victory.  But, what's this?  Someone — an official, a cop? — has whispered in his ear.  Something about glory being fleeting.  And a name — Sugar Ray Robinson.