On Saturday evening, fans got treated to a bantamweight doubleheader, headlined by the rematch between Abner Mares and Joseph Agbeko. The co-feature was Vic Darchinyan vs. Anselmo Moreno. Read on for the full recap of Mares-Agbeko II and Darchinyan-Moreno to see where all of these great bantamweight fighters stand today.
Mares vs. Agbeko II Results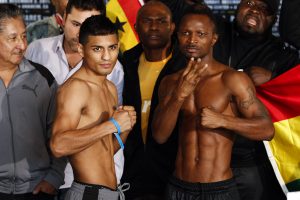 In a rematch from a controversial fight in August, Abner Mares, Montebello, Ca, won a 12-round decision over Joseph Agbeko, Bronx via Ghana, to retain his IBF Bantamweight title. Mares, now 23-0-1 (13), won by 3 scores of 118-110. The fight seemed a tad closer than that.
Agbeko opened strongly with a lot of spring. His jabbing and bodywork likely took the first round. Agbeko continued being assertive in the 2nd, but when Mares began getting up on the balls on his feet, he found success. After a furious exchange at the end of the 2nd, Mares emerged with a big cut over his right eye. Referee Lou Moret didn't rule a cut, giving the Mares cause a bit of urgency.
The cut seemed to enliven Mares. He opened the 3rd winging shots and was generally more active to take the round. Agbeko slowed a bit in the 4th. When using lateral movement, Mares was able to dictate the start of most exchanges. He wasn't dominating Agbeko, but he seemed to be taking control. Aiding his cause is that for the time being, his cut was under control.
Mares was more flat-footed in the 5th, allowing Agbeko to find range more easily. The former champion landed some nice left hooks and right hands to take the round. Mares got back on his toes in the 6th, which might have earned him a slight edge in a close round. Agbeko, however, did win his share of exchanges.
Mares looked good in the 7th, right around the time he began to fade in their first fight. For the first time, he iestablished some clear separation from Agbeko, as he moved and landed sudden combinations. Agbeko was in the fight, of course, but tactically suffering at this point, throwing looping punches and getting picked off by a sharper Mares. Agbeko found some hope in the 8th round, as some sharp shots opened up Mares' cut again. It seemed to pump some life into Agbeko, who began to hone in with a revitalized jab. Mares seemed truly bothered at this point, as Agbeko made some serious headway.
The one-two of Agbeko continued to make strides in the 9th. Mares, in full control a few rounds prior, lost steam and direction, before rallying at the end of the round with a very nice left hook that shook Agbeko. But the Agbeko jab is giving Mares problems. Close round.
Agbeko had problems remaining consistent throughout the fight, but his jab continued to be effective in the 10th. Mares came alive in the final minute. He buckled down and with blood pouring down the side of his face, lashed back at Agbeko with a passion.
This was definitely a hard-fought bout. While perhaps not as exciting as the first, it has been draining for both men. Mares took advantage of a slowing Agbeko is the 11th. His quickly-thrown spurts of punches allowed him to control the round. Toward the end of the round, Mares, who is developing almost a Sugar Ray Leonard-like sense of how to close a stanza, began pelting Agbeko with combinations. A big right, perhaps Mares's best shot of the night, rocked Agbeko.
In the final round, both men appeared gassed. Mares, summoning his dogged fighting spirit once again, found enough in the tank to stay on his toes while a tiring Agbeko followed him around the ring. Mares darted in with enough surprise shots to take the round, with a typical buzzsaw finish to punctuate matters. Proboxing-fans.com saw things a little closer than the judges at 116-113, Mares. Nevertheless, it was a fine performance for the IBF champion, who finally scored a conclusive and controversy-free win. An absolutely huge win for Mares. Agbeko falls to 28-4 (22 KOs).
Darchinyan vs. Moreno Results
WBA Bantamweight Champion Anselmo Moreno defended his title with a unanimous decision over Vic Darchinyan. Moreno was brilliant in neutralizing the favored Armenian, en route to a dominant decision win. Scores were 116-111, 117-110, and 120-107, all in favor of Moreno.
Moreno started well in this battle of top southpaws. Moreno looked swift and slick from the outset, so polished that he made Darchinyan look even more raw than is normally the case. Vic is getting close, but Moreno is slightly more effective in countering the frequent misses of Darchinyan.
The second saw a good fight break out, with Moreno landing some thunderous southpaw lefts. Lucky for Darchinyan, he was facing an opponent with 11 knockouts in 33 fights.
Darchinyan started finding a home for his looping power left in the 3rd round, with Moreno showing a good chin. The defending WBA champion also caught Darchinyan coming in with some nice shots.
Darchinyan continued to stalk, but Moreno is hard to hit. Vic is still in the fight, but has yet to put a dent in Moreno, a steely boxer. At the end of the 4th, Darchinyan had a point taken for rough-housing when he tossed a clutching Moreno to the floor. His frustration is certainly building.
By the fifth round, Vic looked a bit lost, looking for one big shot. Moreno was nullifying him–tying him up and catching him with counters when Vic was on his way inside. Vic is putting on pressure, but Moreno remained poised.
By the 6th, Moreno began landing vicious lefts on Darchinyan, even appearing to hurt him a few times. With each increasing round, the fight is getting away from the matador/bull dynamic everyone foresaw. But Vic is punching from too far away and in close, his shots are wide.
In the 7th, Moreno was utterly dominant. He has been immune to Darchinyan's pressure, which has only served to bring out his counter-punching brilliance. He's slick as they come, using angles, and landing huge shots on the exposed face of Darchinyan.
By the 10th, the Darchinyan cause began to look lost, with Moreno having spent the last several rounds slamming him with jabs, straight lefts, and hurtful-looking bodyshots. After 10 rounds, Moreno was looking fantastic. Even though he was a reigning champion with a line of defenses behind him, Moreno, 26, showed form that wasn't very evident watching him on tape. He is a resourceful and slick titleholder, with a nice arsenal of punches and wonderful punch anticipation.
In the last 2 rounds, Vic irrepressibly pressed forward, but still to little avail. He would throw a punch from far away and inevitably miss, only to be countered or tied up by the fast-thinking Panamanian. After 12 rounds, there was no doubt. A new star was born at bantamweight. Moreno just punched his ticket. With this performance, he belongs in any conversation having to do with the identity of the world's best bantamweight. And if universally-recognized top 118-pounder Nonito Donaire stays at 118, Moreno looks to be his most dangerous challenger. Darchinyan, almost 36, is now 37-4-1, following this lopsided setback.