Oh yes, the big night is upon us, and fans looking for live Cotto vs. Margarito 2 results online will find exactly what they have been craving right here at ProBoxing-Fans.com. As we do for all the big fight cards, we'll be offering a live Cotto vs. Margarito round by round blog, with continuous updates not only of the main event, but of the entire pay-per-view card, which is loaded. It's the best way to take in all of the action right as it happens, and you won't find a better place to camp out for the evening than right here.

—> Continue to our live Cotto vs. Margarito results & round by round coverage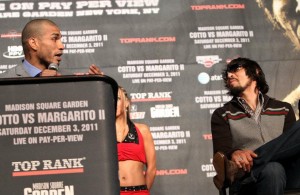 The Cotto vs. Margarito fight time for the evening will be at approximately 11:30pm – 12:00am. The pay-per-view will begin at 9 pm Eastern, and there are three full undercard fights scheduled. So that Cotto Margarito fight time will depend on how all of those first fights play out. However long they last, they should each provide some good excitement, as all of the three bouts have a great deal of promise for action and fireworks.
The co-feature is a rematch between Pawel Wolak and Delvin Rodriguez, and those two put on an absolute show the first time they met. Brandon Rios is also on the card, and he's a pure slugger and action hero in there, and the pay-per-view will open with a welterweight match with Mike Jones, who has been known to be in some excellent scraps as well. Rios will face John Murray, and Jones will face Sebastian Lujan.
Everything will kick off at 9pm, and everything will be building up to the Cotto vs. Margarito results coming in later in the night. It should be an excellent evening of fast-paced, exciting fights, capped off by the blood feud in the main event.
Don't miss out on all of the action. Stay right here at ProBoxing-Fans.com, and follow along with our live updates of the entire Cotto Margarito fight and pay-per-view undercard. You can take advantage of our nonstop coverage, our ongoing blog all evening long and the best Cotto Margarito 2 results and round by round available online.