Martin Bakole says he is targeting a rematch with Michael Hunter, should he beat Sergey Kuzmin on Saturday night.
Bakole meets Kuzmin in a high-stakes heavyweight clash on the undercard of Anthony Joshua's unified WBA 'Super,' IBF and WBO heavyweight title defence against Kubrat Pulev at The SSE Arena.
The Congo native has won four on the bounce since his sole defeat to Hunter at York Hall in 2018, whilst the American has won three since, including against Kuzmin.
The 27-year-old admits he is eyeing a second showdown with Hunter.
"Saturday is going to be a good fight, I hope Michael Hunter will sit down and see who is going to win," Bakole said on a Media Zoom call on Tuesday.
"I know who is going to win and next one is going to be him.
"I already asked him and he said yes. I learnt a lot from that loss like you say and we're learning from mistaking mistakes.
"I'm going to beat him [Kuzmin] and next one Michael Hunter. I always call him out, so we can fight again, why not have a rematch.
"He says everyone is avoiding him, so I'm here calling him. Why not have a rematch?"
— Michael Hunter ll (@MichaelHunterII) December 8, 2020
Bakole was sparring with Joshua ahead of his fight with Pulev on Saturday, as well as with Joe Joyce, who upset Daniel Dubois to become British, Commonwealth and European heavyweight champion last month.
And the Congolese believes Dubois, who was unable to beat the count after taking a knee in the tenth round, due to sustaining an eye injury. will come back and learn from his shock stoppage defeat.
View this post on Instagram
"My sparring helped him because I told him to keep that jab," Bakole added.
"I never picked Joe Joyce but I wished the best [man] must win but I know Joe Joyce has got more experience and he was working on his jab.
"But the only thing I have is movement and that's the only thing Dubois wasn't doing that night.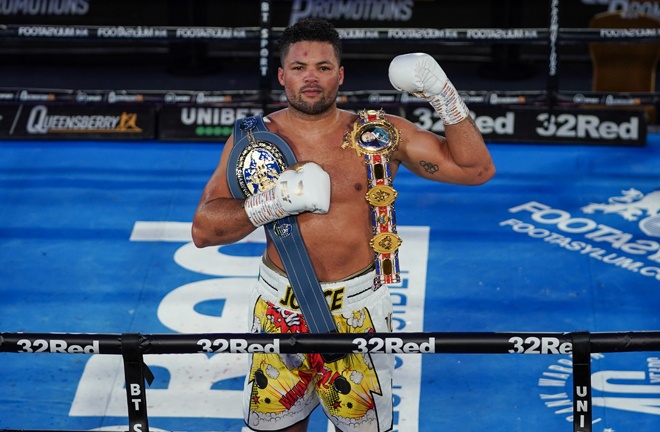 "I can see Joe Joyce doing that jab, one, two mix it up.
"I feel sorry for Dubois but its showing he's not having experience, but we learn from [our] mistakes.
"Even me today I learnt a lot from my loss against Michael Hunter, I learnt a lot.
"So, I hope he's going back to the gym and [will] come back strong again."
Watch the full interview with Bakole below where he discusses sparring with Anthony Joshua, his fight with Kuzmin and his brother Ilunga Makabu's WBC Cruiserweight world title fight in Congo: