Boxing is abuzz with the outcome of Saturday's Sergio Martinez vs. Julio Cesar Chavez, Jr. bout, and justifiably so. After boxing Chavez's ears off for 10 straight rounds, Martinez decided to close the show by going toe-to-toe with the much bigger Chavez in the 11th, producing an electrifying brawl. This was a bad tactical decision on the part of Martinez, who relies on head movement and footwork rather than point defense for protection, and he got clobbered for it in the 12th.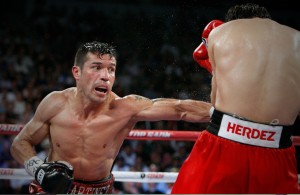 With "Maravilla" so badly hurt that he did just about everything but grab Chavez and hang on, it looked like Chavez might finish the Argentine, or at least pound him sufficiently to bring on a stoppage. Every article I have seen on the Martinez vs. Chavez results liken the bout to 1990's Julio Cesar Chavez vs. Meldrick Taylor I, where Chavez, Sr. was out-boxed for much of the fight, but ultimately ground down and stopped Taylor in what remains one of the sport's most controversial stoppages.
In truth, this bore only the most superficial of similarities to Chavez vs. Taylor I. Whereas Papa Chavez landed crushing left hooks to Taylor's body, leaving him noticeably diminished in the late rounds, Junior was left with no answers to Martinez's onslaught for the entire bout.
In my book, if Martinez hadn't changed tactics starting in the 11th, he would have cruised to an unmarred, landslide points victory. Pundits who claim that Chavez walked down, ground down and caught his man are deluded by their own pro-Chavez bias, and there are a few of them out there. In truth, the fight reminds me much more of Lucian Bute vs. Librado Andrade I than of Chavez vs. Taylor I.
Another difference between this bout and Chavez vs. Taylor I is that I doubt Sergio Martinez has come out of it a broken shell, as was the case for Meldrick Taylor. "Marvelous" took a severe shellacking in the 12th, broke his left hand in the bout, and tore ligaments in his knee in his 12th Round knockdown, but he did not absorb the kind sustained and brutal beating that shortens careers. Some Chavez supporters are already implying that he ruined Martinez on Saturday, but my sole concern on that note is his knee, since so much of Martinez's style is built around mobility.
So what next for these two men? Martinez might want the winner of Daniel Geale vs. Gennady Golovkin, should that fight come to fruition. As for Chavez, I hope he moves up to super middleweight. I concur with Roy Jones, who said Chavez looked like he weighed about 190 lbs on fight night.
The man isn't a real middleweight, and struggling to lose 30 to 40 lbs for each fight takes an inevitable toll. I, for one, am salivating about Chavez duking it out with the veterans of the Super Six tournament. The economic logic behind a rematch might prove irresistible, but I would expect the return bout to more closely resemble Bute vs. Andrade II than Chavez vs. Taylor II.
Marcos Maidana Wins Royal Brawl
While Martinez and Chavez was playing out at the Thomas and Mack Center, on the other side of the strip an absolute war was being waged at the MGM Grand by Marcos Maidana and Jesus Soto Karass. This was such a vicious slugfest that the referee took points away from both men for hitting when ordered to break and hitting after the bell. Even though he is really only an especially rugged journeyman, Karass's vicious body attack actually had Maidana backing up and clinching for a time, but ultimately Maidana's fabled power prevailed.
It is understandable that you might have missed this bout, in favor of watching Martinez vs. Chavez. Even so, seek out the replay. These two guys beat the snot out of each other in one of the most action-packed fights seen in recent years, and Maidana vs. Karass is a solid candidate for Fight of the Year.
Comments
comments