While many people are out buying last minute Christmas gifts, undefeated junior middleweight sensation Vanes Martirosyan (28-0 17 KOs) is busy training hard at the Wild Card Gym in Hollywood, California. "I had been out of the gym for a little while but I returned last week and it feels great," said the Armenian prospect.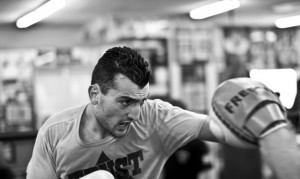 Martirosyan is looking forward to spending the holidays with family and friends but knows that a return to the ring is imminent and he wants to be ready, "I know I am in the running to fight Cotto in March and I threw my name in the mix to fight Sergio (Martinez).  I just want to land a big fight and show the world what I can do."
While many people schedule their vacations this time of year, the fighter known as "The Nightmare" knows he needs to stay on top of his game.
"Vacations are nice but I am a fighter and this is what I do. I am working hard in the gym because I know I will get a title shot soon," said the confident Martirosyan.
Within the next couple weeks, Martirosyan's next opponent should be announced. Vanes Martirosyan and the entire Team Martirosyan family would like to wish everyone a Merry Christmas and happy holiday season.
"Merry Christmas to everyone out there. To all the fans, 2011 is going to be a big year. Together we will rise to the top."