Which Top Boxer Gets the Least Respect in the Boxing Community?
No matter how good you are in the ring, how consistent you are with your performances, and how many top fighters you turn back, sometimes certain fighters just don't get the respect they deserve amongst fans, media members and the overall boxing community. In 2010, there are actually many candidates who fit into this category, as the boxing world continually hones in on just a few fighters – ahem, Manny Pacquiao and Floyd Mayweather – while seemingly forgetting about the rest. But which fighter was the least respected boxer in 2010?
2010's Least Respected Boxer: Marco Huck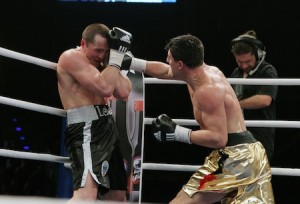 Marco Huck, 31 (23) – 1, is one of the most anonymous top level fighters or champions in the sport. Huck, fighting in the crusierweight division and basically exclusively plying his trade from Germany, has fought 12 times in less than two years since losing to the top cruiserweight in the world, Steve Cunningham. That makes him one of the most active non-prospects in the game, and those wins aren't all piled up against nobodies either.
He's beaten two of the top 5 cruiserweights in the last 12 months, Ola Afolabi and Denis Lebedev. During that stretch he also turned back Matt Godfrey and Brian Minto. He has made five defenses of his WBO cruiserweight belt over the past year, and along with Cunningham, has cleaned out the rest of the division. The means of course the only logical fight that remains for either man is a rematch against one another. With both now promoted by Sauerland Events, that will hopefully get done in 2011, perhaps as soon as after Cunningham's next fight.
Some might say his anonymity doesn't equate to a lack of respect, it's just that American fight fans don't know that much about the guy, and don't get a chance to see the majority of his bouts. However, that anonymity and lack of recognition is the exact reason he is the least respected boxer in the world for 2010. An American fighter, or one of any culture who was showcased on American television, with Huck's track record over the past year might be getting serious cred as Fighter of the Year, not Least Respected.
Runner-Ups
Pound for pound ranking given after name
Thanks for checking out the 2010 Least Respected Boxer award from ProBoxing-Fans.com, and be sure to take a look at the rest of our 2010 boxing awards!