Team Martirosyan wants to congratulate Austin Trout for his recent win over Rigoberto Alvarez in Mexico.  The win netted Trout the WBA world light middleweight title. In various interviews, Trout has said that he would like to face Martirosyan in the pro ranks.  Martirosyan and Trout faced each other three times in the amateurs and Martirosyan came out with his hand raised in all three fights.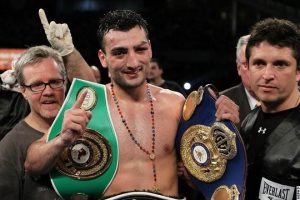 Martirosyan returns to the ring on March 19th and would love to take his friend up on his offer.  Martirosyan has a message for Trout, "Austin, I am happy for you.  Congrats on winning the belt. We are friends but this is business.  You say you owe me one for the wins I have against you in the amateurs so lets get it on."
Trout has said that he isn't impressed with Martirosyan's professional resume which includes a 28-0 record.
"I hear you aren't impressed with what I have done in the pros.  That should give you even more reason to fight me," Martirysyan stated.  "Come on bro, if I am that easy then lets meet in the ring.  It's easy work for you.  It will be your chance for revenge and I get a crack at your belt.  I am sure Top Rank and your promoter can come to an agreement."
The venue and opponent for Martirosyan's March 19th ring return will be announced shortly.  Fans can follow Vanes on Twitter @VanesBoxing for all the latest news on the WBO's #1 super welterweight ranked contender.