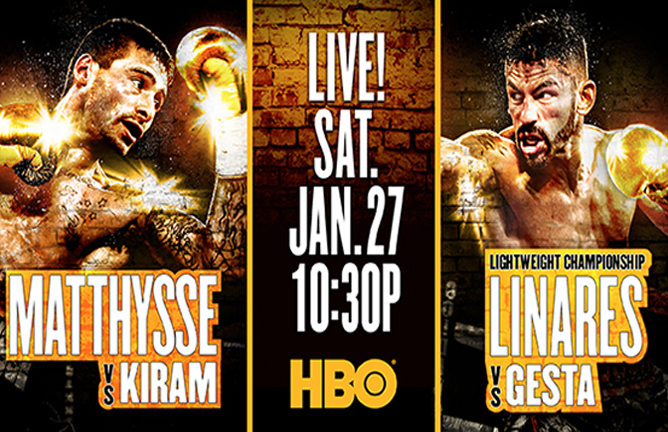 Two of the most exciting fighters, Lucas Matthysse and Jorge Linares, will compete in separate world championship bouts on Jan. 27, 2018 at the "Fabulous" Forum in Inglewood, California. HBO Boxing After Dark host the double main event live, beginning at 10:20 p.m. ET/PT.
The first co-main event will see the 35-year-old Matthysse, facing undefeated Thai superstar Tewa Kiram in a battle for the WBA Welterweight World Championship.
"I am honored to be able to fight for a world championship in just my second fight at welterweight," said Matthysse, a former interim world champion at 140 pounds who has defeated the likes of former two-division champion Lamont "Havoc" Peterson, former WBO Junior Welterweight Champion Ruslan "The Siberian Rocky" Provodnikov and former three-division titlist Humberto "La Zorrita" Soto. "I understand I am facing a younger, undefeated opponent, but I am confident that 'The Machine' will emerge victorious."
Since turning pro at the age of 15, Kiram has torn through an astounding 38 opponents, with 28 of them never hearing the final bell. He won the interim PABA Welterweight Championship in just his sixth fight and defended it – and the full PABA Welterweight title – more than 30 times over seven years. This will mark his first fight outside of Thailand.
"I understand not many people know me in the U.S., but they are in for a big surprise on Jan. 27," Kiram said. "I have never been defeated, and I am fully confident that I will return to Thailand with the WBA Welterweight World Championship around my waist."
HBO Boxing After Dark Trailer 
In the second co-main event, Jorge Linares will make his second trip to the Forum in a row to defend his lightweight world championships against Mercito Gesta.
"I have travelled all over the world to win and defend my titles, and I am looking forward to having my hand raised in victory once again in America," said Linares, the three-division world champion who holds victories over world champions and contenders such as Anthony "Million Dollar" Crolla, Kevin "Mighty" Mitchell and Gamaliel "El Platano" Diaz. "I know that Gesta has speed and power, but he hasn't been at this level before, and on Jan. 27, he'll know what it's like to face a world champion."
Gesta, a 30-year-old from the Philippines, has not lost in six fights, beating opponents including Gilberto Gonzalez and Martin Honorio. Gesta is getting his second shot at a world championship after dropping a unanimous decision to Miguel Vazquez for the IBF World Lightweight Championship.
"I know firsthand how long it takes to get a shot at a world championship, and I will not allow this opportunity to pass me by," Gesta said. "I understand Linares is a great fighter, but I know I have the skills, speed, power, and great coaching which will get my hand raised in victory."
"What a way to kick of 2018 – with two of the top fighters in the sport taking on younger, hungry challengers," said Oscar De La Hoya, CEO and Chairman of Golden Boy Promotions. "It's not often you get two main events on one card, but that is what we will have on Jan. 27 at the "Fabulous" Forum. This card will help keep the momentum that boxing established in 2017."
"This is a very important fight for Argentine boxing, for Matthysse and for Arano Box," said Mario Arano of Arano Boxing. "Matthysse is ready to be a world champion, and we are more than sure that his win will make huge waves throughout the entirety of the Republic of Argentina and South America."
"Thailand has never had a Welterweight World champion before," said Taweesin Terry Laosuwanwat, Manager and Promoter of Kiram. "We are making history here, and Tewa [Kiram] will do anything to win this fight. Tewa has never lost before, and he will keep his undefeated record against Matthysse.