IBF #6 ranked heavyweight, Maurice Harris (25-15-2, 11 KOs) has signed a contract to fight Edmund Gerber (19-0, 13 KOs) in Erfurt, Germany on May 5, 2012. Team Sauerland will promote the 8-round bout.
Harris' promoter Mario Yagobi of Boxing360 states, "Maurice will travel to Germany and fight Gerber in his homeland.  When he's victorious, he'll be right back in title contention looking for a shot to challenge for the world title.  Maurice has been in the gym awaiting his next opponent and now he has one.   I believe Harris will rise to this occasion and come out victorious."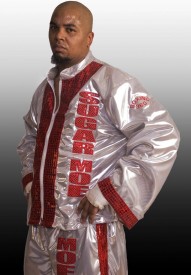 Said Harris from his gym in Newark, New Jersey, "I've been waiting patiently for another opportunity to state my case as a heavyweight contender.  My trainer William Bo James has kept me busy in the gym, so I'm confident in my ability to go rounds.
"Both Gerber and I are looking to get that title shot so I expect him to come out swinging.  I have over forty pro fights and I'm going to use that experience to get this victory.  I'm prepared to go the distance if need be, but if the knockout presents itself, then I'm going for it."
The winner of Harris vs. Gerber is sure to move up the IBF rankings where a possible title shot against champion, Wladimir Klitschko looms.
Klitschko is slated to face mandatory Tony Thompson next, and has also talked about facing Chris Arreola, however the list of opponents for Wladimir is clearly short at this point.