We're back with another edition of the boxing rumor mill, and there is plenty to talk about. What really has everyone buzzing right now are the problems surrounding the proposed Brandon Rios vs. Yuriorkis Gamboa fight. The match, a fight that has had fans and boxing insiders salivating since it was announced, was scheduled for April 14th on HBO, to be held in Las Vegas. The fighters and their teams were to do a two-city press conference tour, Miami and Los Angeles, beginning Monday in Miami, Gamboa's adopted hometown.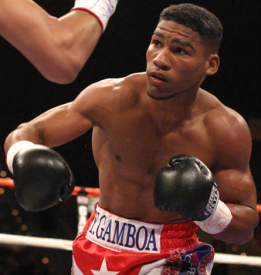 As you have probably heard by now, Gamboa was a no show for the event. Not only was the presser to be on his own turf, and to kick off the biggest fight of his career, but apparently he specifically requested a Miami press conference when negotiating the deal. And it was a true no show, leaving even Top Rank, HBO and Rios and his team in the dark with no clue what was happening until minutes before the scheduled open to the press conference.
The LA presser was to be held on Tuesday, and Top Rank took the time to reconfirm the time and date via email to the press. However, reconfirmed or not, it's very much unclear whether Gamboa will make an appearance this time.
Meanwhile, the talk has been that Floyd Mayweather has lured Gamboa to join Mayweather Promotions. All sources at Top Rank though say that Gamboa is signed and locked up into a contract, making such an attempted move futile.
Below, you'll see a video of Brandon Rios at the Miami press conference, and the always combustible Rios was none too happy at Yuri's no show. He called Gamboa a coward, and said that he's not a real f'n man, and that he's scared. Rios also called him an f'n midget. And much more. A fun watch, as you'd expect from Rios.
Top Rank has also said that Rios will be fighting on April 14th regardless.

Campillo-Cloud Rematch Denied
The IBF has denied Gabriel Campillo's request for a rematch against champion Tavoris Cloud after the extremely questionable judging in their recent fight. It's unclear why the organization, which recently has been on top of fight scoring and refereeing issues pretty solidly, has denied the motion. They did release a statement in which they said scoring a fight is discretionary, and there was no proof of any wrongdoing here.
Campillo still has a second request of sorts pending with the Texas commission and wants the judges who scored for Cloud to be punished.
De La Hoya's Announcement
Yesterday, we pondered what Oscar De La Hoya's pending major boxing announcement may be. Supposedly he'll be talking to the media or making it public at some point this afternoon. We'll see what he has to say for himself.
Check back later this afternoon and hopefully we'll have more boxing news and updates to report on some of these issues.